Swazi activists call off protests after crackdown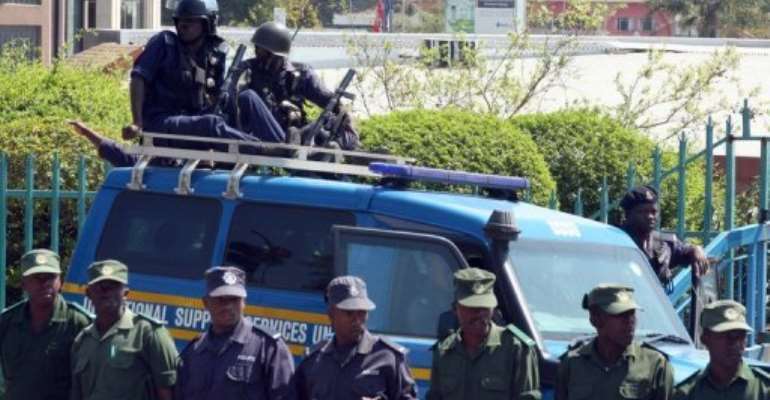 MBABANE (AFP) - Swazi activists on Thursday called off their pro-democracy protests after the arrests of top union leaders, a heavy deployment of security forces and an official ban on gatherings in Africa's last absolute monarchy.
"We could not continue with our protests today as there was a high level of security, intimidation and arresting of our members," said Jabu Shiba, deputy treasurer of the banned Trade Union Congress of Swaziland.
"We then met to halt the protests and call for an urgent leadership meeting on Saturday to reflect on these developments," he told AFP.
Top union officials Sipho Kunene and Muzi Mhlanga were arrested earlier Thursday in capital Mbabane, union spokesman Vincent Dlamini said.
"Mhlanga and Kunene were arrested by police in Mbabane whilst waiting for the march to start. Police have instructed marchers to disperse or face the consequences," he said.
"No gathering of whatsoever nature shall be allowed, police say."
The government on Tuesday obtained a court order blocking the demonstrations to commemorate a ban on political parties and the suspension of the constitution that have allowed the king to rule by decree since 1973.
A "no tolerance" warning was issued against the protests, imposing a ban on walking in groups of three people or more.
Police have been stopping and questioning anyone in a red shirt, the colour associated with trade unions.
Protests have mushroomed in the impoverished kingdom ruled by King Mswati III, Africa's last absolute monarch.
The king, who turns 44 on April 19, has faced growing criticism and unprecedented public protests over the last year due to a financial crisis that has pushed the kingdom to the brink of bankruptcy while he is accused of lavish spending.
Mswati is rated by Forbes magazine as among the world's 15 richest monarchs, with a personal fortune of more than $100 million.