Four Years Of Squandered Opportunities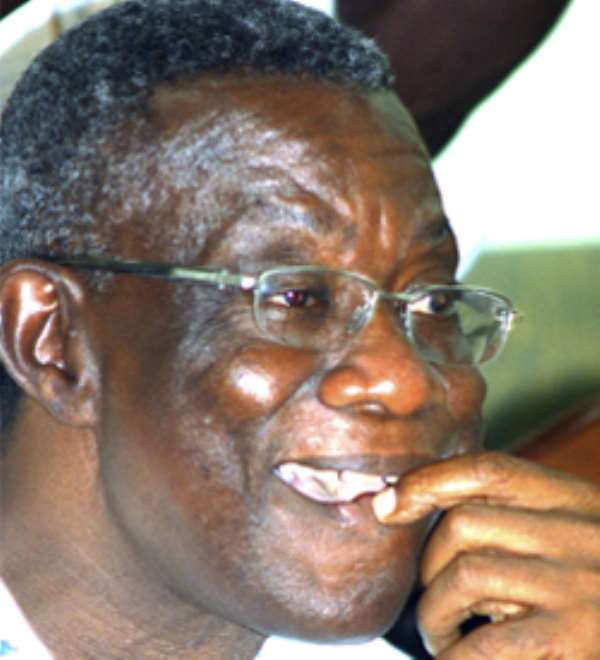 President John Mills
The major concerns facing Ghanaians today include rising unemployment, especially among the youth, rising cost of living, falling standards of living, falling standards of education (especially at the JHS and SHS levels), collapsing healthcare, collapsing businesses, low business and consumer confidence, and a national sense of hopelessness and despair.
If you put together a focus group of 10 Ghanaians in any part of the country (exclude the Castle), picked randomly from the streets, and ask them what they think of the Mills-Mahama administration, seven out of ten will mention the following: weak leadership, incompetence, corruption, broken promises, lies and propaganda. The biggest issue facing the youth of our country today is unemployment and yet, this is the government which lied that it created 1.6 million jobs after one year in office, when in fact more businesses collapsed and government put a freeze on public sector employment in that same year.
In President John Mills and Vice President Mahama, Ghana has a leadership that has lost touch with the concerns of the ordinary people. To add insults to injuries, the President and his orchestra of propagandists continue to tell us that the Mills-Mahama administration has achieved more than any other government in Ghana's history and that Ghanaians had never had it so good. But the truth is that the Better Ghana that they promised has become a bitter Ghana for the many and a better Ghana only for the privileged, selected few.
Just this week, Vice President John Mahama launched the revised and expanded propaganda textbook, Green Book Chapter II. Much of the flagship achievements are in fact of no particular effort or initiative of this government. Let me just highlight a couple of the 'unprecedented achievements' listed in this new Green Book to expose the fluffiness of what has been achieved under President Mills.
Top of the list is the 13.7% recorded GDP growth, the highest in our history. Yet, that was because Mills inherited a nation that had just discovered oil in commercial quantities.
Next is this claim: 'Ghana secured $3 billion loan funding from CDB… the single largest loan to Ghana and evidence of confidence in the Ghanaian economy.'
The truth is that this confidence has been driven solely by the discovery of oil. Indeed, the $3bn Chinese loan is tightly tied to the lifting of Ghana's share of Jubilee crude oil and revenues from there.
There is another interesting claim in the book, proudly highlighted by the Vice President on Tuesday; which is that the 'country's wage bill has more than doubled under the last 3 years from GH¢2billion to GH¢5billion. President Mills has, therefore, put money in the pockets of Ghanaian workers who are better off today than they were.'
But the counter-prevailing truth is that President Kufuor managed to more than double the wage bill every year of his 8-year term- not just every four years! And he did this without the benefit of oil revenue and record price hikes in gold and cocoa.
Let us interrogate this particular claim a little more. In 2000, the total wage bill was GH¢200 million. By 2008, President Kufuor had increased it to GH¢2 billion- a 1,000% increase. This translates into an average wage bill increase of 125% for each of the 8 years under Kufuor and 39% for each of the 4 years under President Mills.
The Green Book tells us that in 40 months, the NDC has created 1,734,978. It struck me as odd. Even if this figure is to be believed, then it means the NDC has created 134,000 jobs since 2010. This is because Government told us in 2010 that 1.6million jobs were created in its first 12 months alone! Something just doesn't add up- except of course it is calculated on the propaganda calculus.
The 1.6million phantom jobs issue became a major embarrassment when Okudzeto-Ablakwa, Deputy Information Minister, broke the incredible news. His immediate boss, John Tia, held a press conference to bring manufactured details to substantiate the embarrassment.
Not to be outdone, subsequently, the President, Prof Mills, in meeting the press, was challenged by a journalist that if his government had created 1.6 million jobs in its first year, how come such a truly unprecedented achievement, if indeed true, could not find its right of place in the top 50 achievements listed in the first Green Book. The President's answer was that a lot of details were left out in the first Green Book so we should wait for the next one. Wow! So who is the Chief Propagandist of them all?
What this means is that President Mills gave the presidential seal to this blatant lie that he created 1.6 million jobs in his first year (the year that he placed a job freeze in the public sector and refused to pay contractors), close to what US President Obama created in his first year after introducing a stimulus package of $787 billion (ended up costing $825 billion) for a country that is more than 10 times bigger than Ghana.
Obama's stimulus had a mixture of tax cuts, grants, loans and infrastructure spending. To the contrary, the initiatives here in Ghana have been higher taxes and duties, reductions in credit to the private sector, high cost of borrowing, consistently low business and consumer confidence, according to the Bank of Ghana surveys, and inflated cost of contracts which have meant more money chasing fewer jobs.
John Mahama kindly warned Ghanaians of what to expect if four more years were to be given to the NDC when he launched the latest Green Book - Better Ghana Agenda II. He said the NDC would spend a total of $250 million to establish 200 community senior high schools (SHS) within the next four years.
Be warned, Ghanaians! The NDC is saying that if re-elected, it would build schools, 200 of them, at the unit cost of $1.25m — or GH¢2.21m! The question to ask is this: how many schools can $250m build under a government that is not corrupt? My guess is that 500 new SHS can be easily put up.
What has been unprecedented is the ease with which the cost of school buildings and the number of jobs created have been inflated. The best way, if at all possible, to evaluate the success or failure of the economic management of Mills and Mahama and how that has affected jobs is to look at how many net jobs have been created or lost since the NDC took office in 2009. Going by the drop in the number of SSNIT contributors alone last year, one may be right in concluding that more jobs have been lost than created.
Again, in listing the areas where jobs have been created, the Green Book added NYEP (National Youth Employment Programme) and LESDEP (Local Enterprises and Skills Development Programme). It lists the number of people engaged under LESDEP as 10,000 and 100,000 people employed under NYEP.
It may be recalled that when Mills took over, 110,000 people were employed under NYEP. The new government said many of the people were NPP 'boys' being paid without working and therefore laid them off and compiled an entirely new list of NYEP workers. This new list says that there has been a 10,000 net reduction in the number of names under NYEP since 2009.
The LESDEP situation defies logic and it is a huge scandal in the brewing. The budget said it was allocating GH¢60 million for LESDEP, run by the company that has stood up boldly to undertake corruption-ridden jobs-for-the-boys schemes for the ruling party, Zoomlion.
Whilst school administrators were complaining last month that they were yet to receive any capitation grant or secondary school subsidies for the second term, the Ministry of Finance had readily released GH¢84 million (not GH¢60m) for LESDEP.
This translates into more than GH¢8,000 for each of the 10,000 listed under LESDEP. Now, here is the scandal: when you look at the kind of people who ordinarily sign up for LESDEP, GH¢1,000 may even take them pretty far as capital for their small scale enterprises. But not even GH¢2,000 of this GH¢8,000 per head would go to them, individually. So where is the money going? Could this GH¢84 million, if properly applied, not create 6 times as many jobs?
President Mills may very well go down in history as the worst constitutional leader Ghana has ever had because he has, through no effort of his own, been the most fortunate leader that Ghana has ever had since the First Republic and he has wasted all the opportunities presented to him.
He inherited a more democratic country, a middle-income economy, record price hikes in Ghana's main export earners: cocoa and gold. And, on top of all that, he is the only President who benefited from oil revenues.  However, he has not been able to do much with all this.
As a result of the oil that was discovered by his predecessor, President Mills has been able to borrow more than $12 billion in foreign loans- far more than all the previous governments put together managed to borrow since 1957.
He has been able to borrow all these huge sums, including the $3billion from China, because Ghana has become attractive today to foreign investments as a result of the oil that was discovered through the vision and hard work of his predecessor, President Kufuor.  Thus, whatever success the economy has chalked or whatever opportunities there are cannot be attributed to any specific economic policies or programmes initiated by the current administration.
In short, Ghana has been blessed but the blessings are being squandered by a leadership of unprecedented broken promises, incompetence and corruption.