South Sudan's Kiir rejects calls to withdraw troops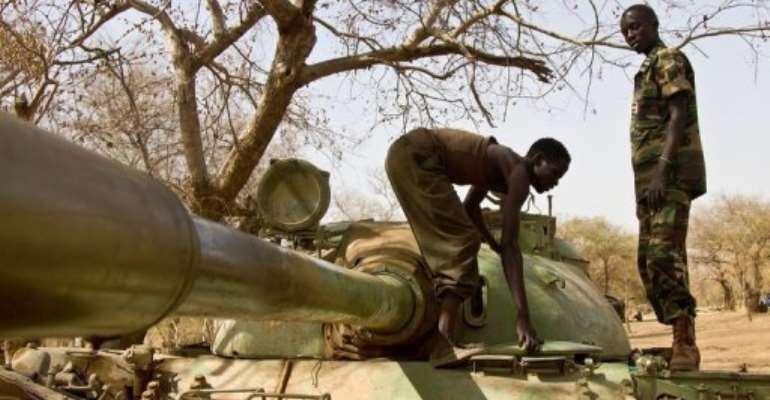 JUBA (AFP) - South Sudan's President Salva Kiir rejected calls Thursday to pull out from contested border regions, but said he did not want war with Khartoum, whose warplanes bombed a Southern town for the first time.
Three days of heavy fighting between rival armies this week, the worst since South Sudan won independence in July after one of Africa's longest civil wars, have brought the two former foes the closest to a return to outright war.
Kiir, in a speech to parliament, also threatened to send troops into the disputed Abyei region -- held by Khartoum and patrolled by UN peacekeepers -- if Sudan did not withdraw its forces from the area.
"I will not order the forces to withdraw from Heglig," Kiir told parliament, despite calls by the African Union and United Nations to pull out from the region seized from Khartoum's army earlier this week.
"I always say we will not take the people of South Sudan back to war, but if we are being aggressed (attacked) like this we will have to defend ourselves."
"I am appealing to the citizens of the Republic of Sudan, especially the mothers, not to allow their children to be dragged into a meaningless war," he added.
Sudanese war planes dropped five bombs at dawn targeting a strategic bridge on the edge of Bentiu, the capital of the oil-producing Unity border state and some 60 kilometres (40 miles) from the frontier where rival armies are fighting.
"The population is staying in their places, when the planes come they lie down," said Gideon Gatpan, Unity state information minister. One person was killed in the attack, the latest in a string of air strikes in the state.
The last time Khartoum bombed Southern towns was during the 1983-2005 civil war in which some two million people died, paving the way for the splitting of Africa's largest nation into two.
Kiir said he had told UN chief Ban Ki-moon in a telephone call Wednesday he would send troops into the Abyei region if the UN did not enforce a withdrawal there by Khartoum's forces, who seized the area last year.
"I said, I am not under your command," Kiir said, demanding that Sudan's President Omar al-Bashir be pressured to enforce an agreement to pull his soldiers from Abyei, an area the South says is theirs.
"If you (Ban) are not moving these forces of Bashir out of Abyei, we are going to reconsider our position and we are going to head to Abyei," Kiir told lawmakers to a standing ovation.
This week's clashes follow border fighting that erupted last month between the neighbours. Each side has blamed the other for starting the hostilities.
The unrest has prompted Khartoum to pull out of AU-led crisis talks aimed at resolving the protracted dispute with Juba over oil, border demarcation, contested areas and citizenship issues.
Khartoum has vowed to react with "all means" against a three-pronged attack it said South Sudanese forces had launched against Sudan's South Kordofan state, including the Heglig oil field, which produces around half of the north's crude.
Khartoum's official SUNA news agency warned of "destruction" in South Sudan.
Parliaments in both countries on Wednesday urged their respective citizens to take up defences, a call repeated by Kiir Thursday.
"If the youth have guns, let them keep these guns... when we call them back those who do not have (guns), they will be supplied."
The international community, including the African Union, United Nations, the United States and China, has called for restraint and voiced deep concern at the escalation of violence.
Ban urged Kiir to meet with Bashir, while the US State Department urged both sides to end "all hostilities".
European Union foreign policy chief Catherine Ashton said South Sudan's capture of Heglig was "completely unacceptable. So is continued aerial bombardment of South Sudanese territory by the Sudan Armed Forces."
Hundreds of thousands of citizens of each nation living in the territory of the other country are also facing uncertain futures after a deadline requiring them to formalise their status expired at the weekend.