Special report: All night for thumb power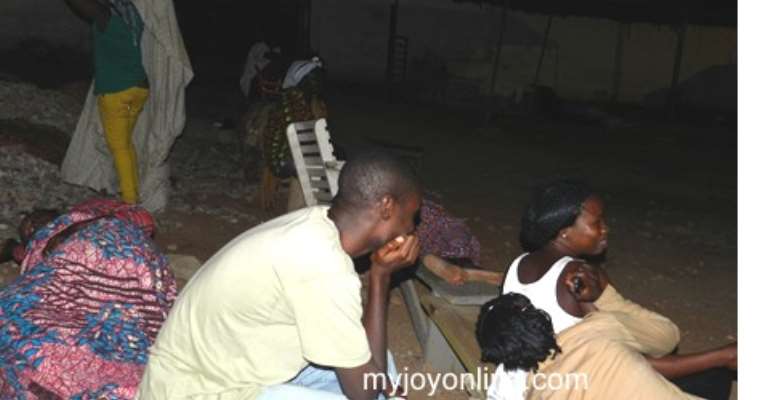 It is not rare, in Ghana, to see people sleep overnight at polling centers a day to a major election. As the saying goes, the early bird catches the worm; and for that matter, the prime reason for such people is to be the first to exercise their franchise.
Others do so to catch up with business or social plans during the day.
With about eight months for Ghana to go to the polls on December 7, the country's electoral body is phasing out all voter IDs as it compiles new voter's register – through the biometric registration. It is the first of its kind in the annals of the country. 45,000 officers have been deployed by the EC to supervise the exercise in 7,000 registration centres. The Coalition of Domestic Election Observers (CODEO) has its personnel on the ground supervising it as well as the vigilante political parties. The piecemeal process started on March 24, 2012.
As widely reported, the new system has largely been greeted with a number of hitches. The slow nature of officials is not only frustrating, but a lot of the machines are malfunctioning making the long wait in queues unbearable to most Ghanaians.
The early days of the exercise brought in their wake many, many discomforts and other agonizing encounters. It has been nerve-racking in some places: people have been maimed, according to various media reports. Incidents of blows-trading and insults among the registrants have dominated the news. EC officials occasionally do receive their portion of the peoples' anger.
Causes
So what are the causes? Well, for the politicians, attempts by their rivals resulting to various means to rig coming election; and the methods employed in countering them. The infamous 'whom you know' canker – cannot be ruled out. Favourites are therefore made to jump long-winding queue of people who have nothing to do with their time for quick action. Expectedly, some do not take such a despicable attitude kindly at all, and have at times fought back - for their right! There are also genuine cases of persons who leave queues, albeit with 'permission', to transact or attend to some urgent business, and their return to the queues is usually met with fisticuffs.
At times too, the annoying one of course, those who think they are the wiser than those who have been in the queue for several hours under the scorching sun, and with a pomposity longer than themselves, would unashamedly, and as we normally put it, cross the line - right at the nostrils of the registration point! Obiaa nye obiaa, to hell with everybody, as s/he 'closes the eyes' and argues pretentiously: "You are shocking me oooh, I joined the queue longest. I only left a while ago to…oh so you can't remember my face, oh! Oh!!!…" as s/he swears heaven and earth, apparently, resorting to persons he or she is sandwiched in between for refuge. Well, the easiest thing a man can do is to deceive himself. But would you have allowed such a person to have his way? What is/are the predictable result(s)?
As a few point fingers at the Electoral Commission for purchasing "China-made-machines" because of their low quality – they say -; many, mainly politicians, have been flying countless suspicions and superficial beliefs about the credibility of the system. As for the invisibly hoisted red flags, the least said about them the better.
Due to the snail pace of the exercise in its early days, many have had cause to call for its extension. Note that eligible voters have 10 days to register at a polling centre of choice. There would be no vote transfer this time or extension, the EC has indicated. So you either register at the stipulated dates or you disenfranchise yourself, period!
A typical registration centre
Let me walk you through the first three days of registration at the Rect Academy Polling Centre at Kwashiebu in the Weija Municipality of the Greater Accra Region (under Phase 1) – which is more or less a mirror of what is actually happening in most centres nationwide.
Energy to power their equipment has yet to become a problem: there are spare high voltage batteries as well as a standby generator to beef the force.
On the first day, before 3 o'clock at dawn, people have already started queuing. At 6 am, an hour before the official registration starts, the queue was very long and winding. EC officials and political parties' representatives arrived later. The exercise started minutes after 9 am.
Three hours into the registration exercise, the machines began misbehaving. 'The laptop computer has frozen'; 'no, other machines connected to it have overheated.' Officials bandied around their try and error diagnoses.
At the time, over 30 people had filled the registration forms but only 15 had successfully gone through the entire process and had been issued with their new biometric ID Cards. The quality and durability of the cards is a different subject for another day.
At the end of the day only 57 were registered. Minor skirmishes were recorded: people resisting others cutting into queues, those trying to use the imaginary backdoors and the 'you don't belong here' factors.
Mr Gilbert Tutu, in his late 50s, had his new ID card after 4pm; he brandished his card for the lens of my camera and told me "I came here at 3 am. There were people here when I came and we are now getting our cards hhhmmm," he sighed off.
Traditionally, this centre has a little over 700 voters but the figure is expected to double. Due to the poor education before the start of the exercise, persons from areas where the exercise was yet to get there are pouried to this centre to get registered. Many feared the registration train may not stop at their end.
On the second day, which is Sunday, again many queued at dawn. EC officials arrived early enough for the exercise, but there was confusion. The officials had numbered and promised persons who could not register the day before that they would have their turn first. But those who queued at dawn would have none of that. How they managed to solve the problem is history. 59 people were registered that day.
Then comes day three, now, the operators are becoming more used to the machines, or the machines are now acknowledging their hands, there were, for want of words, overlookable breakdowns.
Aside the same old confrontation and confusion that characterized the previous days, the exercise sailed smoothly with 109 prospective voters receiving their cards.
Daniel Smith, Registration Officer at the Rect Academy Polling Centre, admitted it was not easy dealing with the huge turnout. He told me he sometimes put people on a waiting list for the next day. For others, he advised them to come very early for consideration. The aged, pregnant women nearing labour and lactating mothers had their own queue; and even that…
However, the kind of excitement people go through when they receive their cards makes the mundane exercise fun to watch.
Less I forget, some people whose residency or nationality were in doubt were either physically prevented or challenge forms were filled to contest their eligibility. A vehicle belonging to the opposition NPP was chased away when it parked close to the registration centre by a certain stout man, who vowed to ensure that no colours or resemblance of any party is seen there. Other eyesore skirmishes were registered there but not as deadly as reported in some constituencies.
Sleeping at centres
Like it turned out in certain centres, at least 20 people on daily basis slept at the Rect Academy Polling Centre in the open. People brought beds, mattresses, chairs and benches to pass the night there. Mosquito nets were even brought there.
I joined them from Monday evening to about 2am on Tuesday to observe and ascertain their motive. Interestingly, there were no extraordinary reasons for their action: they want to be given the first treatment the following day. That was all.
They bought time chatting and recounting the day's event in order to shorten the night. Most of them had been unsuccessful in acquiring their cards when they had joined the queue at day time. It made sense to them and preferable to sleep there instead.
Diana Adjei, a first time prospective voter, told me she slept there because it would be impossible for her to get registered without doing so.
You can't imagine upon all the troubles, she had her turn after 6pm. Unbeknownst to her, people have queued with stones and empty chairs ahead of her. Sometimes, a relative sacrificed and deprived him or herself of all comforts to sleep there for other relatives. For instance, an old lady in her late 60s, who had already registered, slept on a bench to fight for a space for her grandchildren.
At the end of the day, it was daunting and frustrating for many to acquire their ID cards. Whatever being the reasons, including voting for the many lip service politicians as some called them politricians. The question boggling me is this, does it worth it to sleep overnight just to get your voter ID card? Why?