Nkrumah's son chased Samia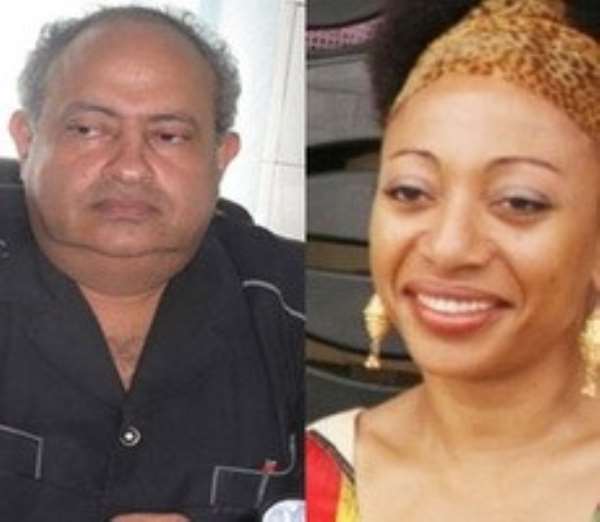 Dr. Onsy Anwar Nathan Nkrumah and Samia Nkrumah
The 55-year old 'unknown' man who recently showed up in Accra claiming to be a biological but secret son of Ghana's first President, Dr. Kwame Nkrumah, is reported to have proposed marriage to Samia Yaaba Nkrumah, his supposed half-sister.
This latest but shocking twist of incest has found its way into the unfolding story of Dr. Onsy Anwar Nathan Nkrumah's claim that he is a biological son of Kwame Nkrumah, at a time the family of the late president is making preparations to give him a native Nzema name at a ceremony in Nkroful, the home town of the late president.
Sekou Nkrumah, the last born of Nkrumah, said his elder sister, Samia Nkrumah, had told him some time ago that she received marriage proposal from this 55-year old 'unknown' brother insisting he is a son of the first president.
Interestingly, Dr. Nathan Nkrumah told Daily Guide last week that at the age of 55, he was not married and did not have a child.
Though Sekou did not provide any evidence to back his alarming allegation, he said Samia herself told him about the marriage proposal from her 'secret brother', Nathan Nkrumah.
"I met Samia yesterday and she said the man (Nathan Nkrumah) had proposed marriage to her two years ago. So how can you propose marriage to Nkrumah's daughter and then two years down the line you say you are Nkrumah's son? Is this not madness? So maybe that person is a con artist or an imbalanced person but as I said his file is with the National Security or BNI," an apparently vexed Sekou told Radio XYZ in Accra last Thursday.
He explained further: "My problem is that you don't go around saying you are Nkrumah's son when you are not. How can you be Nkrumah's son when all this time nobody has heard of you? I think it is dubious and kind of strange. He claims he was born in 1957 to an Egyptian mother. How would Nkrumah have had a relationship with an Egyptian mother and have a child with her and then a year or two later marry another Egyptian woman?
"My brother (Gamel) has stated clearly on one of the social media, Facebook that he had met him several times in Egypt and this man had never said he was Nkrumah's son so he is surprised that the man is calling himself Nkrumah's son today."
Daily Guide tried several times to reach Samia on phone over the matter but she neither picked her phone nor replied to a text message that was sent to her over the same issue.
Unconfirmed reports say Dr. Nathan Nkrumah flew out of Ghana over the weekend after he had earlier on chuckled over Sekou's protest that he is not an Nkrumah.
Sekou had suggested that a DNA test would be the most credible way of confirming Dr. Nathan Nkrumah's paternity.
Daily Guide had met Dr. Nathan Nkrumah last week and asked him why very little or nothing had been heard of him since he was born on March 17, 1957, a few days after Ghana attained political independence.
"Because I really cherish my privacy, I did not want to share much but I guess in the last few years I allowed some people to get to me and to know me. I have decided to now settle in Ghana," Dr. Nathan Nkrumah noted.
Aside giving his mother's name as Isis Nashid, an 80-year-old Egyptian, Dr. Nathan Nkrumah revealed nothing about her love relationship with Ghana's first President.