OPINION: Prophet T.B. Joshua And The Bias Of The Nigerian Media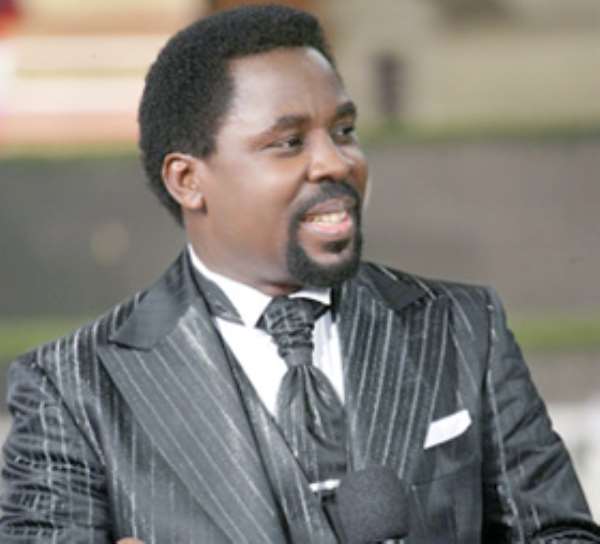 The characteristics of the Nigerian media in recent times are such that stories and news items which do not reflect the truth of our collective situation are what are being concentrated on, while more serious, human angle and celestially significant affairs are pushed off with the wave of the hand.
Indeed, the readers and listeners are not being encouraged to respect the editorial contents, features and new analyses which are dished out because of their lack of potency and reliability.
The Nigerian media have shown themselves to be dangerously biased and thematically jaundiced to such an extent that even the proprietors and owners have lost sense of bearing, while the populace believes in turning their eyes and minds to international media for truthful and accurate reporting and analyses. It is so commonplace to see Nigerians watching or listening to programs in every field of human endeavor on channels located in Europe, America and Asia, where issues are objectively and truthfully treated.
Also, the media in Nigeria have, over the years, concentrated mostly on political issues, especially political party leaderships, conflicts, and odious advertorials which sing to the honor of the politicians. While doing that, only a very slant or inconsequential space is often given to issues of morality, values and the coverage of individuals promoting national growth. Indeed, instead of these, gossip, falsehoods and lewd celebrity culture are given abundant attention. The media are even often recruited to promote political division and immoral cultures.
Even children prefer to watch cheap home videos and television programs which talk of sex and other immoralities, since attention is never really focused on ethical and religious issues which should reform our personality. The media in Nigeria attend to issues of meaningless controversies, anchored on inter and intra-religious hatred and antagonisms, while leaving out aspects which should inform and enrich humanity.
Those who should be daily applauded by the media are derided, attacked or neglected, as seen in the very good instance of Prophet T.B. Joshua. In other parts of the world where sanity and decorum prevail, and where development and enrichment of humanity are celebrated, someone like Prophet T.B. Joshua with his unique blend of charitable and practical Christianity would have been celebrated and lauded as a symbol of national progress.
However, many media establishments in Nigeria get carried away by the plague of yellow journalism and sensationalism. So much hypocrisy and nonsensical obscenities are worshipped by the media in our midst. We keep celebrating notorious kidnappers, cases of stealing in public offices, and incidents of social recklessness among public office holders, while pushing aside very serious and morally implicating matters of social welfare and religion.
For example, the accuracy and timeliness of Prophet T.B. Joshua's prophecies are recognized the world over by both the leaders and the led, a good example of this being Joshua's most recent prophecy about the sudden death of Malawi's President Bingu wa Mutharika. An issue that attracted headline news in numerous African countries and prompted an interview with Joshua from The Times Newspaper in UK was completely overlooked by Nigerian journalists.
Just two days ago, on Easter Festival Day, an international recognition came in another format to Prophet Joshua. A respected American minister of God, C.S. Upthegrove who was mentored by the famed American healing evangelist A.A. Allen, was at The SCOAN in Nigeria.
The 83 year old man who had also worked with the likes of Oral Roberts and William Branham in the 1960s was at The SCOAN's headquarters in Lagos to announce how God had asked him to come and meet Prophet Joshua. He described how A.A. Allen had equally predicted the arrival of the ministry of T.B. Joshua in 1966, telling Upthegrove that he would be alive to witness it. If God could speak so powerfully to an American Prophet, why are Nigerian media following the path of obscurity and negligence?
If attention is not sufficiently given to Joshua's accurate and sensitive prophecies in Nigeria while other countries are daily celebrating the man, it tells of our sense of collective debasement and loss of faith in ourselves.
Adequate and timely coverage should be given to religious and moral matters. They should know that people like T.B. Joshua are doing more for the rebranding of our country's image than the billions spent on inconsequential projects.
Attention of the media on religious and prophetic matters will redirect the attitude of the leaders and people to issues, which should be of ethical and moral implications. The varieties of media establishments in Nigeria should be in the forefront of strongly preaching inter and intra-religious acceptances and dialogue as a solution to our diverse problems, rather than concentrating on base, reckless and jaundiced reporting and analyses.
Emeka - Lagos, Nigeria