Interim Mali president to be sworn in Thursday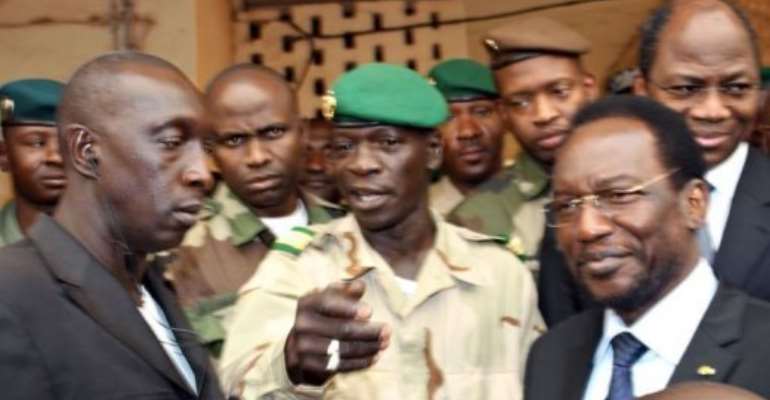 BAMAKO (AFP) - Mali's parliament speaker, Dioncounda Traore, will be sworn in as interim president on Thursday, ending a brief period of military rule, a source close to the Constitutional Court said.
The court met Tuesday morning to officially register the resignation of President Amadou Toumani Toure, following a deal brokered between the ruling junta and West African mediators to restore constitutional order in troubled Mali, where rebels now control most of the north.
Once the junta steps down, it would mark a key achievement for a transition deal hammered out by mediators from the 15-nation Economic Community of West African States (ECOWAS).
The junta's leader, Captain Amadou Sanago, said Monday he would show "zero tolerance" to anyone who tried to derail the transition deal.
Traore will be tasked with organising elections, if possible within 40 days.
An interim prime minister will also be appointed to head "a government of national unity", according to the terms of the deal that ECOWAS forced on Mali's military rulers in exchange for the lifting of sanctions.
Some observers have suggested the junta will try to install their loyalists in key ministries linked to security, as the army strives to combat the Tuareg rebels, outlaws and Islamic extremists who have overrun an area in the north that is roughly the size of France.
ECOWAS has also threatened to intervene militarily in the north to help chase out the rebels, but it was not yet clear if the bloc will be able to mobilise the needed troops, according to security sources.
The Azawad National Liberation Movement (MNLA), a key Tuareg rebel group, last week proclaimed the independence of the northern region they call Azawad, a move rejected by the international community as well as by the Islamist Ansar Dine, which controls some towns.
The UN Security Council on Monday expressed deep concern at the growing "terrorist threat" in Mali's north.
In a statement, the 15-nation body noted "the presence among the rebels of members of Al Qaeda in the Islamic Maghreb," or AQIM, which is Al-Qaeda's north Africa affiliate.
A regional deputy and a security source told AFP late Monday that some 100 members of Nigeria's Boko Haram sect were among Islamists controlling Gao.
"There are a good 100 Boko Haram fighters in Gao," said Abu Sidibe, a regional deputy. "They're not hiding.
Meanwhile the humanitarian crisis in the north, was growing worse, witnesses and non-governmental organisations warned.
"The situation in the three northern regions is dramatic. There are no more hospitals and hunger is growing... The international community must intervene," member of parliament Abdou Sidibe told AFP.
Several hundred people joined a rally in Bamako on Tuesday calling for the "liberation" of northern Mali.
"Down with the separatists," chanted protesters, escorted by police.