S. Sudanese 'foreigners' seek exit from Khartoum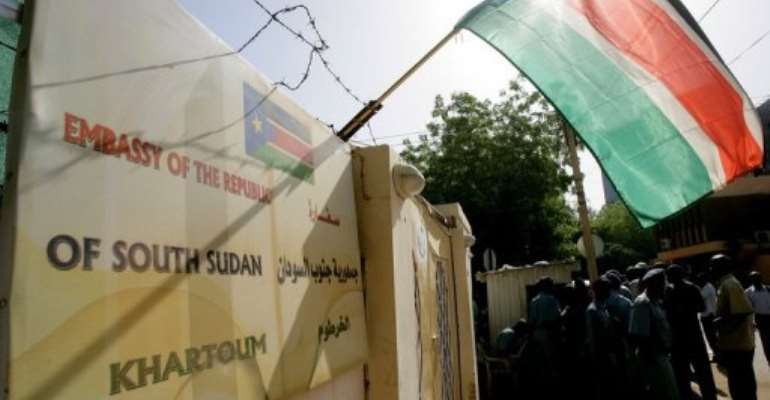 KHARTOUM (AFP) - Suddenly foreigners in a land that had been their own, the sweating South Sudanese crowded against the gates of their new embassy on Tuesday, hoping to squeeze inside for the papers to send them home.
Many like John Henry, 37, clutched yellow airline tickets from Marsland Aviation, but since Monday a ticket is no longer enough to get from Khartoum to Juba, the capital of South Sudan which became independent last July after Africa's longest civil war.
"I'm supposed to take off on Thursday," but whether that will be possible remained unclear, he said.
Airlines cancelled flights from Sudan to the South starting on Monday, travellers said, after new rules treating the route as international took effect.
The ending of domestic services to South Sudan came the day after a deadline for an estimated half a million ethnic Southerners to return South or formalise their status in the north.
Sudan's Aviation Authority said passengers heading to South Sudan must now have visas.
"Khartoum said, if you go to the airport, present your visa," said Henry, an ethnic Southerner who spent years working with Sudan's immigration police.
Like other Southerners who belonged to Khartoum's civil service, he lost his job before the South's independence last July.
He said he is owed thousands of pounds (dollars) in severance pay but is not waiting any longer.
"I'm going to my country," he said. "I'm not welcome here anymore."
Emmanuel Waani, 32, said he had come to help his grandmother who stood about eighth from the front in an orderly line of women.
To their left, a crowd of men pushed against the gate, beneath the South Sudanese flag.
"She needs a visa," Waani said, expecting the process would be finished by early afternoon and his grandmother could be on her way South.
Several Sudanese policemen calmly held back the crowd, sweat beading on their heads, as people entered and left one at a time.
"We are foreigners," said a preacher sitting on a shady curb across from the embassy.
He said he had come to get a South Sudanese identity card, which he would then use to register his presence with the Sudanese authorities.
Those remaining in the north need South Sudanese documents in order to formalise their presence in the north.
For the preacher, that is just a temporary measure until he can go South. After 25 years in Sudan, he said he does not wish to stay anymore.
"No, no, no," he said.
Some who can afford it have already gone to South Sudan for passports and returned, while others are now turning to the embassy for their documents.
Two students, Nguen Nyuong, 25, and Peter Nger, 28, said they did not have the money, almost 300 pounds ($60), to afford the new South Sudanese passports that they needed.
"This is a must, because you are a foreigner," Nger said.
Money, rather than documentation, was foremost in the mind of William Makuei Deng, 46.
He carried a letter to the United Nations refugee agency, saying he had been fired without pay from his job as a union leader at a sugar factory prior to independence.
Deng, his wife and eight children are living on the street at a local market, along with 50 other families, he said.
The letter said he had no money to take his family South, "and that is why I am seeking financial assistance."
He hoped the embassy could help. "I want to tell what has happened to me," Deng said.