Holiday makers mark Easter with funfair at Dansoman Beach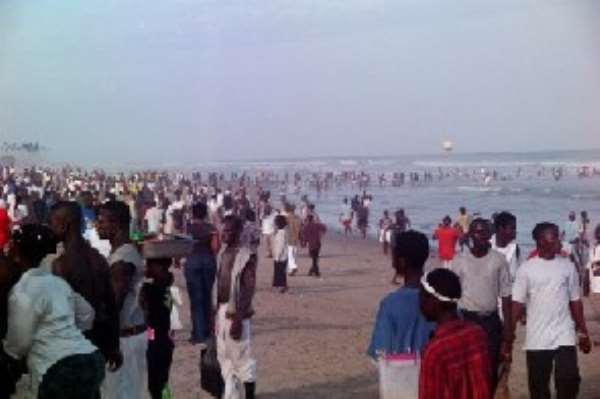 Accra, April 10, GNA –Holiday makers on Monday gathered at the Dansoman beach, Accra, to make merry with loves and well-wishers, to mark this year's Easter celebration.
When the Ghana News Agency (GNA) visited the beach at mid-day, the holiday makers were drinking, eating and dancing to music, particularly the popular 'Azonto; while others were swimming in the sea.
The absence of security personnel and guards made it difficult for officials to control the teaming crowd, and it also posed danger to people, including children who were swimming.
An official, who spoke to GNA under the condition of anonymity, said security personnel were requested for but they were yet to arrive, and he expressed the hope that the situation would become normal when they finally arrive.
Some people who live around the beach took advantage of the get-together to make money by selling drinks and other edibles to the holiday makers.
Some holiday makers expressed disappointment at the absence of security officers at the beach because they were not safe.
As at the time GNA left the beach, they were no reported cases of drowning or any other incident.
GNA