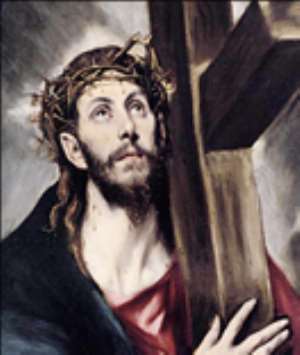 Below is a sub-summary of the Easter message preached at Mars Hill church ... see http://marshill.com/easter for a full video.
Who is Jesus?
This is a very basic question but interestingly enough most people don't actually know the true answer to it. People use second and third hand knowledge when they answer this question. Perhaps the best way to answer this question is to re-frame it to the one below so that we let Jesus speak for himself:
Who did Jesus say he was?
1. JESUS SAID HE CAME FROM HEAVEN
For I have come down from heaven to do the will of God who sent me, not to do my own will.
Please think carefully about that for a minute ... no one and obviously no religious leader has ever claimed to have come from heaven. A lot of them said they were sent by God but they wouldn't argue with you if you told them they came from their mother's wombs. Jesus said he didn't and that he came from heaven.
2. JESUS SAID HE WAS SINLESS (AKA PERFECT)
Which of you can truthfully accuse me of sin? And since I am telling you the truth, why don't you believe me?
Yes ... he said he was without sin ... perfect. When we think of sin, we think mostly of things that we do which we aren't supposed to or things that we failed to do even though we were supposed to. Ungodly thought, speech and motivations for actions also all count as sin. In addition Romans 14:23 tells us that "whatever is not from faith is sin". So basically Jesus' every action, thought, deed was faith based. No other religious leader in the history of the world has claimed perfection.
3. JESUS SAID HE FORGIVES SINS
And Jesus seeing their faith said to the paralytic, "Son, your sins are forgiven."
If you read further down in that chapter, the religious people of Jesus time got really upset with him because he was claiming to be do something that only God could do - forgive sins. So this is pretty straightforward ... Jesus said that he forgives sins.
4. JESUS SAID HE WAS GOD
"I and the Father are one." The Jews answered Him, "For a good work we do not stone You, but for blasphemy; and because You, being a man, make Yourself out to be God.
Yes he did say it ... and that is why Jesus ultimately was killed ... because he kept insisting on the fact that he was God. Again, no religious leader has ever made such an outlandish claim. Jesus was a man, flesh and blood, he ate, slept, got tired, run, laughed AND claimed to be God and died because of that claim.
Once you figure out who Jesus is ... you will either reject him or accept him but the most important thing is to accept or reject the real Jesus. Jesus was not a good teacher, or a great religious leader or a prophet - according to his own words - He came from heaven, he was perfect, he forgives sin and he IS God.
Dear readers .... you now know who Jesus is ... how will you respond to it?