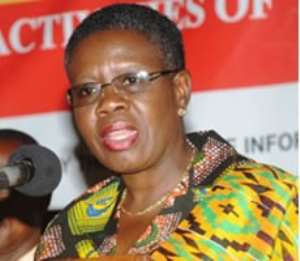 The Government would soon train local pilots to replace foreign paragliding pilots to help sustain the paragliding festival in the country.
Local pilots would soon be sent to Brazil for training for them to train others to man the paragliding programme on their return.
This was contained in an address read on behalf of the Minister of Tourism, Ms Akua Sena Dansua, by her Deputy, Mr Ahmed Baba-Jamal, at the official opening of the seventh paragliding festival on the Odwenanomo Mountains at Kwahu Atibie in the Kwahu South District.
She said paragliding was one of the adventurous events on the country's tourism calendar since its introduction eight years ago and had attracted much interest at home and abroad among stake holders with the growing number of pilots from Japan, Brazil, Germany, Nigeria, South Africa, United States of America, Francs , the United Kingdom, Switzerland and Australia.
Ms Dansua said other activities including health walk, adventure hikes, musical and street carnival have been specially packaged to add value to tourism in the area while the Ministry in collaboration with the Ministry of Communication is talking to companies with masts on the Odwenanoma Mountains to fund the reconstruction of the 4.7 kilometre road to the paragliding site as their corporate social responsibility.
In an address read on his behalf, the Eastern Regional Minister, Mr Victor Smith, advised the Ministry of Tourism and other stakeholders to market the festival abroad to attract more patronage to earn more foreign exchange for the country.
He said the paragliding festival had brought a lot of side attractions including trading activities, hotels and transport businesses and urged the chiefs in the area to institute a traditional festival to be celebrated alongside the paragliding.
The Regional Minister advised all qualified voters to register in the on-going biometric registration exercise to enable them to vote in the forth-coming general elections.
Mr Baba-Jamal was among the first 20 people, mostly foreigners, to fly from the Odwenanoma mountains to the landing site at the Nkawkaw Sports Stadium.