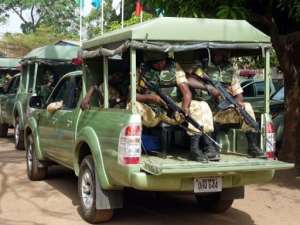 JOS, Nigeria (AFP) - A bomb blast in the central Nigerian city of Jos on Easter Sunday injured several people, officials said, hours after a car bomb attack in the country's north killed at least 20.
"Security personnel have moved to the scene as injured are being evacuated," national emergency management agency spokesman Yushau Shuaib said.
A military spokesman identified it as a bomb blast, but denied there were any casualties. He said the bomb had been planted on a motorcycle left near a a shop selling phone charge cards.
Police spokesman Samuel Dabai gave a slightly different account.
"Some unknown persons went and dropped an IED (improvised explosive device) inside a leather bag," Dabai said.
"It exploded later. It wounded only one person -- no deaths."
Earlier Sunday, a car bombing near a Christian church in the northern city of Kaduna during the Easter service, killed at least 20 people, wounded 30 others and sparked a major security alert over fears of further attacks.