President Mills worships with ICGC on Good Friday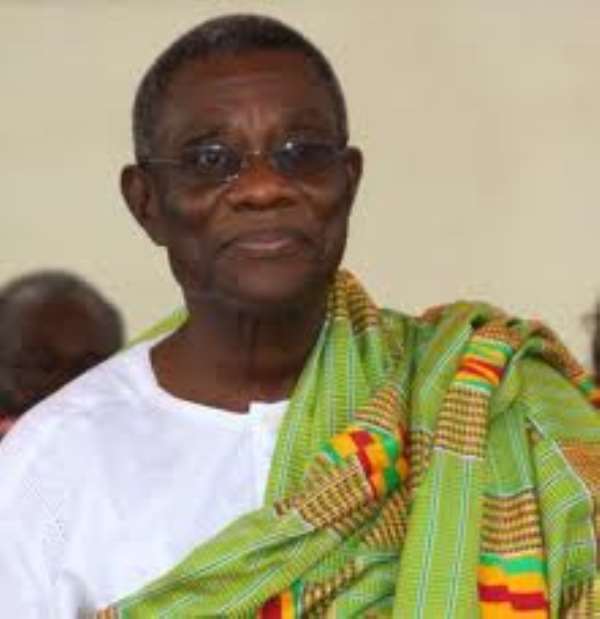 Accra, April 6, GNA - President John Evans Atta Mills on Good Friday appealed to Ghanaians to pray ceaselessly for peace for the nation, and to show gratitude to God by living according to His word.
He expressed conviction that Almighty God has a special place for Ghana, and exhorted the people to continuously submit themselves to God, and to recognize his supreme power.
"There is no human power that is greater than God's power; a servant cannot be above his master," President Mills said at the Holy Ghost Temple of the International Central Gospel Church (ICGC), at Adenta, near Accra.
The President, who joined the congregation to observe Good Friday, spoke at the invitation of Prophet Christopher Yaw Annor, Senior Pastor of the Church, who had just finished delivering a sermon based on the Gospel of Mark 15:33-39, which the Prophet titled "God's Power at Work."
President Mills, who was accompanied by his younger brother Mr Sam Atta Mills, expressed delight at being among the congregation.
The President said: "It is always a privilege for me to find myself amidst believers," and thanked God for the supreme sacrifice of the death Christ so that man would have life.
The President said it was necessary Ghanaians to show gratitude God for His goodness, and stressed that love, truth and spiritual support should continue to be foundations for Ghanaian society.
He thanked the religious community for their spiritual support for the nation, and apparently reoffering to be victorious in next December's presidential polls, the President said: "thank you very much. Let me say next year, I will be here."
Delivering the sermon, Prophet Annor, in a charismatic style made a multiple declaration of "It is finished," explaining "no matter what your situation, it is finished."
Prophet Annor called for sacrifices to be made on behalf of others and said: "we must put our lives down for others."
He inspired the congregation not to be daunted by things that appear dead, since "no matter what you go through there is a resurrection."
Prophet Annor stressed that there was no need to shed more blood, because the blood of Jesus already atones for the sins of humankind and called for forgiveness and peace and reconciliation.
He asked politicians to avoid violence, and ensure peace to imitate Jesus who did not hit back when he was being reviled, made to suffer gruesome death under lingering excruciating pain.
Prophet Annor said Jesus demonstrated clearly that he was against violence, and endured pain to the end to give power to all believers.
"All power is made available from the day Jesus died," Prophet Annor said, and called on Christians to tap into God's power by regularly and constantly communing with him.
The power of the Prophet became manifest as people went down when he touched them with his palm greased with anointing oil.
There were song ministrations by Jude Lomotey and the Holy Ghost Temple Choir.
GNA