First Phase Of Biometric Voter Registration, Impressive, But...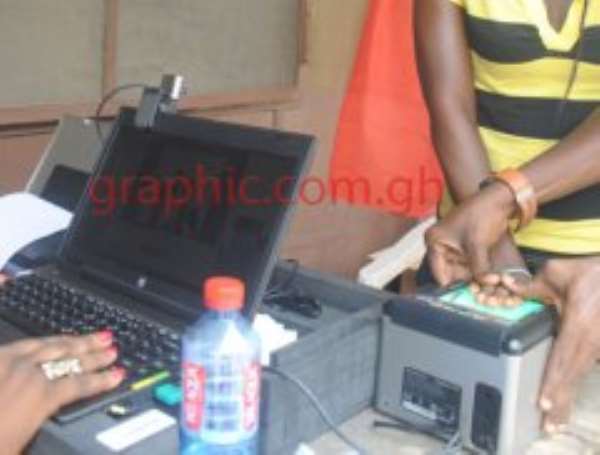 Registration officials take a prospective voter through the process of biometric registration
Four million, one hundred thousand eligible voters registered during the first phase of the biometric voters registration exercise, the Electoral Commission (EC) has said.
According to the EC, more than 600 instances of multiple registration have so far been detected, with more instances being detected.
The acting Director of Public Affairs of the EC, Mr Christian Owusu-Parry, said the instances of multiple registration had been sent to the Adjudication Committee of the EC for onward transmission to the police for further investigation and prosecution of those involved.
He told graphic.com.gh that the number of potential voters who registered during the 10-day first phase of the 40-day registration exercise that ended last Monday was very encouraging.
The EC had initially estimated that about three million applicants would be registered in each of the four phases of the exercise based on the projected voter population of 12 million nationwide.
The nationwide voters registration exercise which began from Saturday, March 24 is expected to end on Saturday, May 5, 2012.
Each phase will last for 10 days at every registration centre.
Mr Owusu-Parry explained that the increase in the estimated voter population for phase one could be attributed to voter enthusiasm which compelled applicants to rush to be registered early.
"This is understandable, in view of the new system and the procedures of registration that we have introduced," he said.
Expatiating on the cases of multiple registration, the acting director noted that a cursory analysis of some of the cases gave an indication that some of them might have resulted from persons attempting to change some details that had been captured wrongly.
Others, he said, might have stemmed from those who were not satisfied with the photographs taken of them and had gone for a second registration.
"The public is hereby cautioned not to engage in such methods of amending their data but wait until the exhibition phase of the process to present their cases for redress, as it is illegal to register more than once," he added.
Mr Owusu-Parry said the EC was currently receiving comprehensive reports on phase one of the exercise from the district offices through the regional directorates of the commission, adding that those reports would be made available to the public as soon as they had been finalised.
He expressed the EC's satisfaction with the ongoing registration exercise, in spite of the initial problems which it had successfully put under control, and was confident that succeeding phases would be better executed in order to produce a credible voters register for the upcoming elections.