Somali PM 'was target of suicide bombing'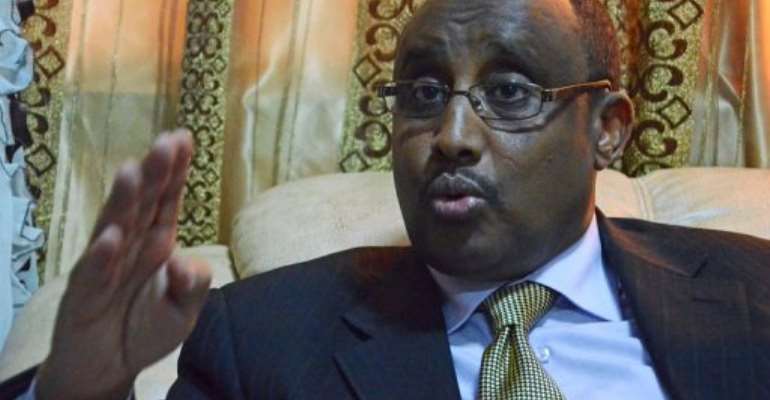 MOGADISHU (AFP) - Somalia's prime minister told AFP Friday that the Shebab militia is on its last legs despite a suicide bomb attack this week at Mogadishu's national theatre which he says was an attempt to assassinate him.
Four people, including Somalia's Olympic committee chief and the football federation president, were killed Wednesday when a female suicide bomber blew herself up at the newly reopened theatre.
"The attempt on my life and other government officials was the last kick of a dying horse. They killed very prominent Somali personalities but they failed to intimidate us," Abdiweli Mohamed Ali said in an interview, referring to the Islamist Shebab rebels.
The Al-Qaeda-linked insurgents claimed responsibility for the blast, the latest in a series of attacks against the Western-backed government since the rebels withdrew from fixed bases in the war-torn capital last August.
"The Shebab are in the dying moments, losing many of their strongholds. They are militarily weak and have low morale," the prime minister said.
A broad offensive by Ethiopian and Kenyan forces in southern and western Somalia has forced the rebels from many of their strongholds, while African Union troops in Mogadishu have advanced onto the outskirts of the city.
Despite the losses, the Shebab -- Somalia's most brutal militia -- remain a serious threat to internationally backed efforts to restore stability in the Horn of African country plagued by a devastating civil war since 1991.
Ali said government officials were still unable to move freely in Mogadishu, even around the heavily fortified presidential palace which was also recently targeted by a suicide bomber who killed five people.
He nonetheless ruled out negotiations with the Shebab, as Somali leaders work to set up an inclusive government to replace the current transitional administration whose mandate expires in August.
"How can we negotiate with Al-Qaeda? The Shebab officially joined an international terrorist agenda," Ali said, accusing the group of "brainwashing" young Somalis to be used as suicide bombers.
The premier said his government was committed to end the eight-year-old transitional administration. Somalia's donors have ruled out any further extension of the current government's term.
The Transitional Federal Government, set up in neighbouring Kenya in 2004, has been unable to exert national authority. It is accused of rampant graft and has been dogged by leadership wrangles and the failure to fulfil its mandate of securing the country, writing a new constitution and holding elections.
"We will be accountable to donors to show how we use funds allocated to us. We also want the international community to show us accountability on their input in Somalia," Ali said.
However, he would not say whether he will run for the presidency in a new government, but his close associates have told AFP that Ali is a serious candidate.
"First we have to ensure the well-being of Somalis. Individual ambitions come second."
Somalia's President Sharif Sheikh Ahmed and more than a dozen other Somalis in the diaspora are among the pretenders to the top seat in a new government.
Somalia has lacked an effective government for 21 years, allowing armed groups, pirate gangs and extremist miltia to carve up the country into small fiefdoms.