Ato Ahwoi dares GFA over Black Stars sponsorship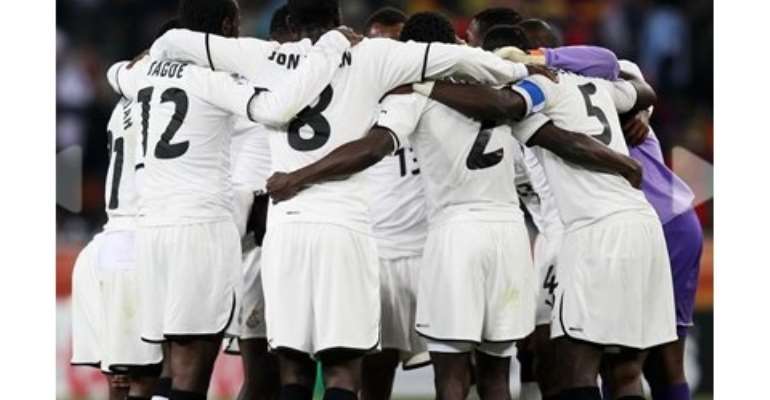 Mr Ato Ahwoi, Board Chairman of Ghana National Petroleum Corporation (GNPC) has dared the Ghana Football Association (GFA) to parade a private outfit, West Head as brokers of the Corporation's sponsorship for the Black Stars at their own risk.
West Head Company has claimed it brokered a lucrative sponsorship deal involving the GNPC for the GFA but the Board Chairman has poured scorn on the claim insisting 'the decision to sponsor the Black Stars emanated from us and no such third party.'
When asked whether West Head approached the GNPC to sponsor the senior national team, Mr. Ahwoi quizzed "who are they? I have not even heard the name before. We met as an outfit and decided to support the Black Stars as part of our corporate social responsibility."
"We did not deal with any third party. If they continue to parade any third party, they risk getting nothing from us (GNPC)" he added.
The sponsorship deal worth a reported $3 million annually for three-years, will see the state agency replace mining firm, Gold Fields Ghana Limited, as the headline sponsors of the senior national team.
The Gold Fields Ghana partnership with the GFA is expected to run out anytime soon but the mining firm has already expressed their unwillingness to continue with the $1.5 million-a-year sponsorship of the Black Stars.
Mr Ahwoi expressed surprise at the claim by the private firm, whose shareholders surprisingly serve on some Standing Committees of the GFA.
He told GNA Sports "I have already told Kwesi Nyantakyi that they risk losing everything if they continue with this claim, which is untrue and he has totally agreed. I will not tolerate that. The next thing you will hear is that I supervised this for a kick-back when indeed our decision to sponsor the team emanated from us and no such third party called West Head".
The Directors of West Head, according to information gathered by GNA Sports are Aloysius Denkabe (Chairman, Referees Committee), Joseph Yaw Appiah (Member, Black Queens Management Committee) and Owuahene Acheampong (Member, FA Cup Committee and Black Satellites Management Committee).
Dr. Aloysius Denkabe confirmed to GNA Sports his role in West Head Company.
Dr. Denkabe, Chief Executive Officer of the organization, confirmed being the initiator of the sponsorship deal after preliminary discussions with a friend who works at the GNPC.
Dr Denkabe, however, rejected claims of a 'conflict of interest' regarding his involvement and that of his two colleagues, insisting they are not members of the GFA Congress which constitutes the highest decision making organ of the football governing body.