Clashes in west Libya kill two: medic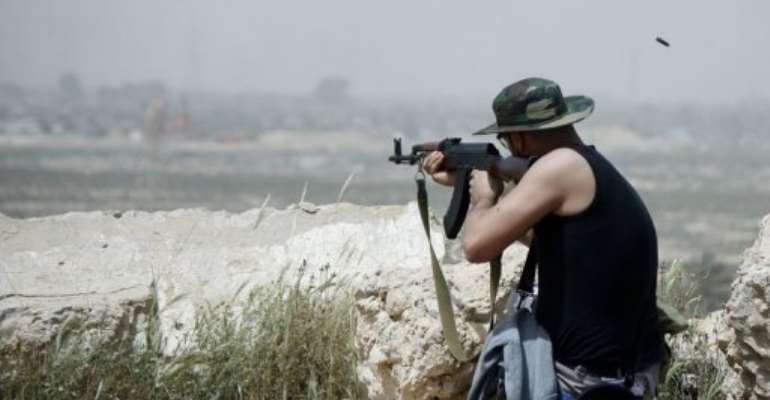 ZUWARAH, Libya (AFP) - Fresh fighting erupted in western Libya on Wednesday, killing at least two people near the border with Tunisia, a hospital official said.
"The situation is once again critical," said Shukri al-Arabi, who runs the only hospital of Zuwarah, a coastal town 100 kilometres (120 miles) west of Tripoli.
"We've received two dead and a large number of wounded people," he told AFP.
Since Monday, former rebels from the western town of Zuwarah have clashed sporadically with fighters from the nearby towns of Regdalin and Jamil despite efforts by the interim Libyan authorities to mediate a lasting truce.
Officials say the clashes have killed at least 20 people.
On Wednesday, a column of smoke rose over Regdalin and Jamil, just 10 kilometres (six miles) south of Zuwarah, an AFP journalist at the scene reported, adding that heavy gunfire was exchanged.
There were no immediate reports of casualties from Regdalin and Jamil.
The fierce fighting on Monday erupted after former rebels from Zuwarah, who say they were patrolling the border region under orders from the ministry of defence, were detained as they passed the town of Jamil.
The interim authorities said Tuesday they had intervened and obtained their release, but on-and-off fighting between the two camps continued.
Fighting resumed on Wednesday after the terms of a 12-hour truce negotiated by the authorities went unmet, Zuwarah residents told AFP.
"We gave them until 11 am (0900 GMT). The time has passed, so I must head to the front to fight now," Zuwarah resident Shukri Mansur said.
Former rebels were stripped of their weapons and armoured vehicles when they were detained in Jamil and now want them back, Zuwarah residents said.
Arabi told AFP eight Zuwarah residents were killed and 142 others wounded in the first two days.
The interim authorities said Tuesday that 10 people were killed in Regdalin and Jamil, while four were killed in Zuwarah.
Since the collapse of slain leader Moamer Kadhafi's regime last October, tensions have festered in and around Zuwarah, whose residents belong to the Amazigh (Berber) minority and fought to oust the dictator.
People in Regdalin are accused by former rebels of standing by the regime of Kadhafi during the 2011 conflict and committing atrocities in Zuwarah.
Mohammed Harizi, spokesman for the ruling National Transitional Council, told AFP a lasting agreement could prove difficult to reach as residents of Zuwarah want to conduct their own investigations into alleged war crimes.
"Everybody has requirements to sign an agreement and most of the requirements are not too easy to meet," he said.
Residents of Jamil and Regdalin want unhindered access to the the Ras Jdeir, on the Libyan-Tunisian border, an area where Zuwarah fighters have a presence, Harizi said.
"The defence department has sent troops over there which are ready to take action," he said.