DCE Bemoans Poor Block Farming Loan Recovery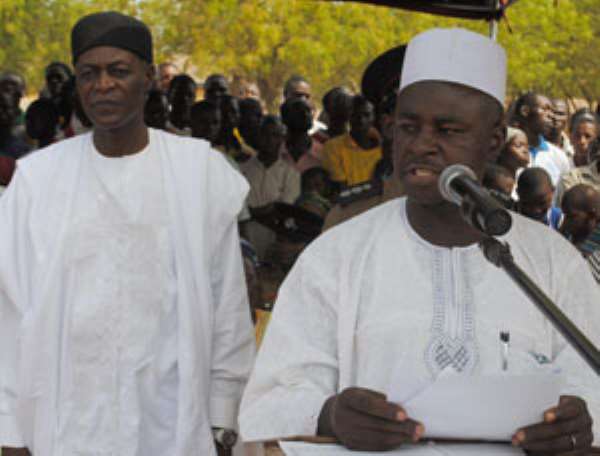 The DCE speaking at the function, flanked by Seth Panwum
The District Chief Executive (DCE) for the West Mamprusi District of the Northern region, Adam Yussif Banabelsera has disclosed that the district is yet to recover a penny from monies loaned to farmers for government's Block Farming Project. 
Several thousands of Ghana cedis at the beginning of the last farming season were loaned to farmers to facilitate cultivation of several acreages of food crops in the district to improve food production to sustain residents. 
The project was also aimed at offering employment for the unemployed youth in the area who had the desire of venturing into agriculture to enhance their livelihoods and the country's food security. 
But this laudable initiative has been defeated in the West Mamprusi district as dozens of beneficiaries have refused to pay back monies loaned to them for the purpose. 
At the 1 st  Ordinary Session of the West Mamprusi District Assembly for 2012, the DCE, in his address, bemoaned the poor recovery of monies invested in the Block Farming Project, indicating that it will inhibit other persons from benefitting this year. 
According to him, the district needed to take advantage of the programme to draw the youth into farming and stock more food for local consumption and for sale but expressed regrets at the poor recovery rate. 
He appealed to assembly members at the various electoral areas to support officials in recouping what had been invested in order for others to benefit in the forthcoming farming season. 
Adam Yussif also complained about the poor revenue generation of the assembly, indicating that it had a toll on the District Assembly's Common Fund. He therefore appealed to the assembly members to embark on revenue education in order to collect more cash for developmental projects. 
The DCE, among other things, catalogued a number of developmental projects embarked on which include plans to rehabilitate 5 dams to facilitate dry season farming for the respective communities. 
On the recent skirmishes at Arigu, Mr. Yussif condemned the violence and disclosed that adequate security measures had been put in place to forestall such occurrence in the future. 
The security of residents, he noted, was the prerogative of the District Assembly Committee (DISEC), disclosing that the activities of suspected bandits were being monitored. 
On his part, the Presiding Member, Seth Panwum, noted that issues concerning the development of the districts should go beyond party politics. 
He therefore appealed to the assembly to evenly distribute developmental projects in all the 43 electoral areas of the district so that some persons will not be disgruntled. 
Mr. Panwum urged the assembly to consider, among its long term plans, supporting assembly members who opt for higher education. He stated that this will go a long way to help encourage them to give off their best for the assembly.
  From Stephen Zoure, Walewale