Mali Islamist advance alarms world leaders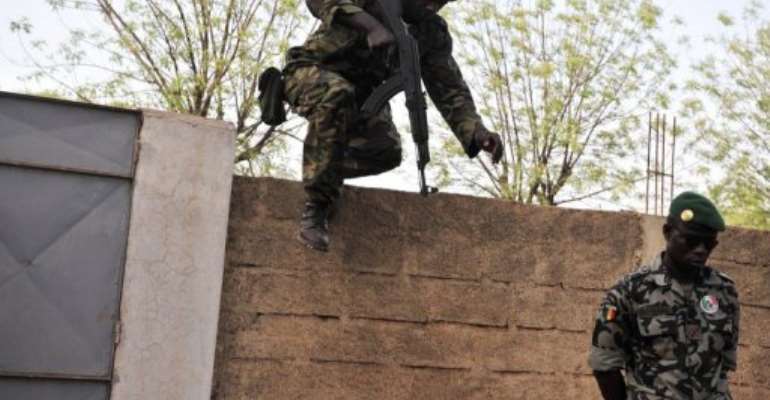 BAMAKO (AFP) - World leaders scrambled to stop Mali's descent into chaos Wednesday, two weeks after a coup in Bamako touched off a sequence which saw Tuareg rebels backed by radical Islamists conquer half the country.
The United Nations Security Council was to make a statement on the crisis amid warnings Al-Qaeda-linked militants were on the verge of creating an Islamic state on a territory larger than France.
Three of Al-Qaeda in the Islamic Maghreb's top leaders were spotted in the fabled city Timbuktu, where the new rulers ordered women to wear headscarves and threatened to cut off the hands of thieves.
Algerians Abou Zeid, Mokhtar Belmokhtar and Yahya Abou Al-Hammam attended a meeting with the city's religious leaders and Iyad Ag Ghaly, a former Tuareg leader who recently founded the Ansar Dine group, a security source told AFP.
Ag Ghaly's men have fought alongside the Azawad National Liberation Movement (MNLA) -- a secular group seeking independence for the Tuaregs -- to conquer more than half of Mali in a matter of days.
In an interview to AFP on Tuesday, French Foreign Minister Alain Juppe warned that while territorial claims could be addressed through dialogue, the Islamist advance could have continental repercussions.
"Some of the rebels may be content to control the northern territories. Others, with AQIM, may plan to take over all of Mali, in order to create an Islamist republic," he said.
"We need a collective response across the region against this Islamist threat, which stretches from Libya as far as Nigeria," he warned.
UN Security Council members on Wednesday were expected to agree on a joint statement sending out a strong message but offering no firm action on the ground.
With Mali's army in disarray since the March 22 coup and regional powers needing weeks to coordinate any military effort, a French minister on Tuesday admitted there was little hope of pinning back the Islamists in the short term.
The United States took action Tuesday, joining the African Union in imposing travel bans on coup leaders as international efforts were redoubled to restore democratic rule in a country descending into chaos.
Washington said it would restrict travel to the United States of those "who block Mali's return to civilian rule and a democratically elected government, including those who actively support Captain Amadou Sanogo," the coup leader.
Feeling the bite of the mounting sanctions and pressure from all sides, the soldiers who seized the capital two weeks ago proposed a national meeting on Thursday and dispatched a team to Nigeria for talks.
Sanogo told journalists that Thursday's meeting would determine "what will be best for the country in a consensual, democratic fashion."
His ousting of President Amadou Toumani Toure weeks before a presidential election -- ostensibly over the government's failure to stamp out the Tuareg rebellion -- achieved the opposite of the desired effect.
Following what some observers have described as an "accidental coup" by a band of low-ranking officers angry at their hierarchy, the Tuareg-Islamist alliance swept across the north, seizing all key cities virtually unopposed.
The 15-nation Economic Community of West African States (ECOWAS) already cut off the landlocked country which depends heavily on imported fuel and froze access to its bank account in Dakar.
One of its mediators, Burkina Faso President Blaise Compaore -- who took part in two coups to reach power -- started holding talks with Malian leaders on Tuesday in a bid to convince Sanogo to climb down.
The crisis precipitated by Sanogo's coup also sparked mounting concern that a massive regional humanitarian emergency fueled by conflict and drought was developing.
More than 200,000 people have been forced from their homes since the Tuareg rebels launched their offensive on March 17.
The UN cultural agency UNESCO also called on the Malian authorities and the warring factions to respect the desert country's heritage and the "outstanding architectural wonders" in Timbuktu.