New Juaben registers over 36,000 voters in first phase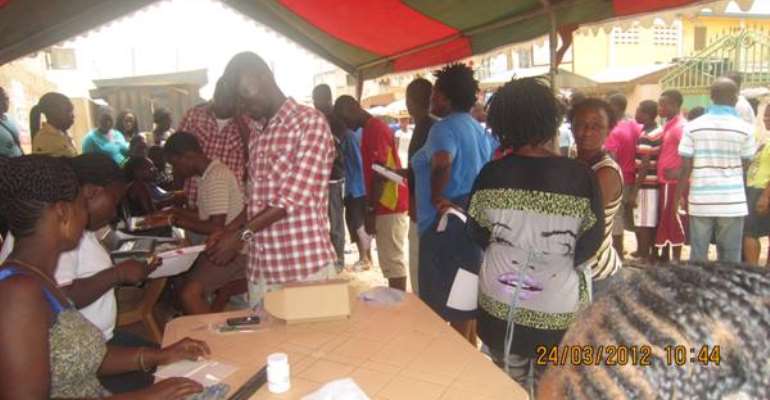 Koforidua, April 3, GNA -The New Juaben Municipality recorded over 36,000 registrations during the first phase of the biometric registration exercise which ended on Monday.
Ms Lydia Agyiri, Municipal Electoral Officer, disclosed this to the Ghana News Agency (GNA) in an interview in Koforidua, on Tuesday.
She said the ten -day exercise was successful except for a few technical hitches, which were experienced in some areas but were later solved.
Ms Agyiri commended the political parties, especially the two major parties, the New Patriotic Party (NPP) and the National Democratic Congress (NDC) for cooperating with the Electoral Commission (EC).
She however expressed concern about the way and manner the two parties sometimes engaged each other in confrontations when misunderstanding ensued between them at the registration centres.
Ms Agyiri appealed to the two parties to use the electoral process to iron out their differences as far as the exercise is concerned to make the remaining thirty days successful.
She also admitted that some of their officers were not fast enough, which sometimes slowed down the process and assured that a day review workshop would be organized for them to sharpen their skills for the rest of the exercise.
The municipal electoral officer said considering the turn out in the first ten days of the exercise, she anticipated another good response from the general public in the coming days.
She appealed to the public not to rush to register at a polling station other than where they stay since every polling station would be covered during the forty-day exercise.
"If you move from your polling station to register at another centre, you will be compelled to vote at that centre during the election in December and other subsequent elections" she cautioned.
Ms Agyiri assured the political parties and all stakeholders in the exercise that they would correct all the necessary mistakes that occurred during the first round to make the remaining rounds incident free.
She also commended the police for helping to make the exercise a success and urged them not to relent in their efforts to make the entire process incident free.
In a related development, Dr Mark Assibey-Yeboah, NPP parliamentary candidate for New Juaben South, in a telephone interview also expressed his satisfaction with the ten-day exercise.
He however appealed to the EC to try to press upon some of their registration officers to speed up the process of registering to reduce the time one spends at the registration centres.
Dr Assibey-Yeboah commended the NPP agents for their vigilance and urged them to ensure that no one abuses the process.
The NDC parliamentary candidate for New Juaben South, Dr Owusu-Acheampong, also expressed his satisfaction with the exercise and hoped that it would get much better during the second phase.
GNA