UN Council hammers out condemnation of Mali conflict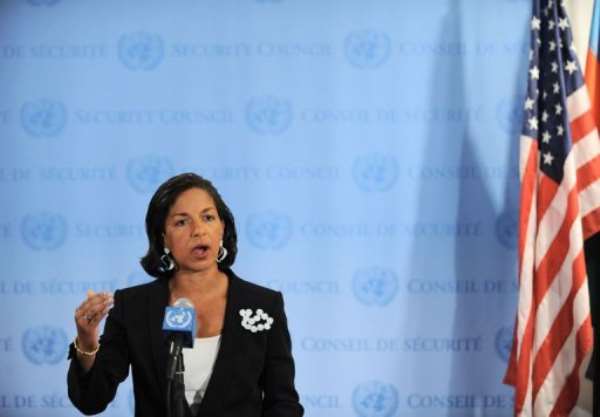 Susan Rice, US Ambassador to the United Nations, speaks to the media. By Stan Honda (AFP/File)
UNITED NATIONS (AFP) - UN Security Council members on Tuesday hammered out a joint statement on the Mali crisis as the United Nations raised concerns about food stores looted by rebels in the African state.
A top UN official told the council that Mali government forces are giving up positions to rebels "without much of a fight," US ambassador Susan Rice told reporters.
France called an emergency meeting of the 15-nation council to negotiate a statement condemning a coup against President Amadou Toumani Toure and the advance of Tuareg rebels and Islamist militants into towns in the north of the country.
France's UN envoy Gerard Araud said some countries had proposed minor amendments to French text in support of efforts by the West African regional group, ECOWAS, and that more time would be needed to reach agreement.
The council released two press statements last week condemning the junta's overthrow of the president.
The presidential statement being negotiated, which has a more formal weight, would back the Economic Community of West African States (ECOWAS) which has imposed sanctions on Mali.
UN under secretary general for political affairs, B. Lynn Pascoe briefed the Security Council about Mali where the Azawad National Liberation Movement, ethnic Tuareg rebels, and the Islamist Ansar Dine have taken several towns in the north since a March 22 coup.
Pascoe said the rebels have "capitalized on the confusion" since the coup and "government forces are effectively abandoning their positions in the north without much of a fight," the US ambassador told reporters.
The UN's World Food Programme said insurgents had looted UN food warehouses after taking over the cities of Kidal, Gao, Timbuktu and Mopti and that the agency has suspended its food distribution operation.
More than 200,000 people have fled their homes because of the conflict, according to the UN.
French envoy Araud said the Security Council must "react and give its support to ECOWAS in order to re-establish constitutional order in Bamako" and "find a political solution with the rebels in the north in order to re-establish Mali's territorial integrity."
ECOWAS has an intervention force of more than 2,000 troops on standby because of the coup and the rebel uprising.