NDC Germany predicts one torch Victory for Prof. Mills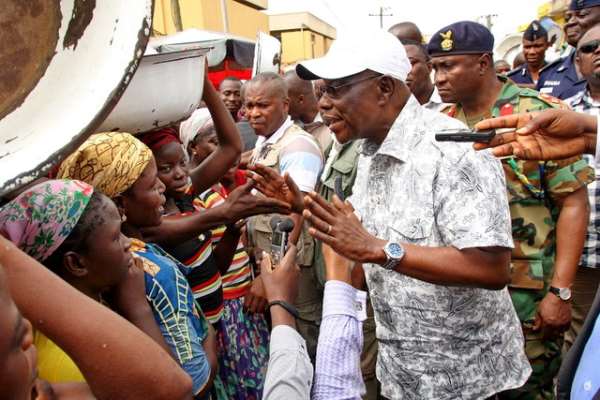 Prof. Mills @ Agblogbloshie
The planning committee of NDC German Chapter has convened an emergency meeting which turned to be a mammoth rally over the weekend Saturday 31st March, 2012 in Berlin, the capital city of federal Republic of Germany. The venue was Holsteinischesstrasse a popular spacious community center in Berlin.
The aim of the meeting / rally was to strategize and formulate means of retaining NDC under President John Atta-Mills to power come 7th December, 2012 General Elections to continue his unfinished "Better Ghana Agenda". In effect, members from various local party branches would be voluntarily selected to reinforce the communication team both in Ghana and in Europe through the media network to educate and inform the Ghanaians about the achievements of the NDC party from NDC 1 under Rawlings 8-year administration and NDC 2 under Prof. Mills 3 years as compared to Opposition NPP 8 years of former president Kuffour administration.
Door to Door concept which was initiated by Prof. Mills which has been hijacked by NPP Flag-bearer Nana Akuffo-Addo would be modernized.
According to the party's official itinerary regarding upcoming December 2012 general election, similar meetings / rally have been planned in all the 16 German states whereby funds would be raised to support the NDC party in Ghana. Other logistics such as banners, souvenirs, T-shirts etc shall be acquired to boost the campaign trail back home and in the Diaspora. International media promotions and advertisements shall be the party's priority.
Prominent personalities included delegates from the SPD (Germans leading social political Party whose ideology conforms to NDC), party faithful as well as branch union leaders. Meanwhile speakers who spoke at the rally including Nana Kwame Arhin, Augustus Kofi Essel, Dr.Prince Yaw Owusu-Agyemang, Mr. George Nyarko, Nana Ama Konadu, Alhaji Sumaila Musah , Mr Kwame Yiadom and many others.
In his speech, Mr. Kofi Essel who chaired the function, spoke about unity, commitment and dedication required from all members. Nana Kwame Arhin also thanked the members for their presence and urged all well-meaning Ghanaians in the Diaspora to educate and persuade their families back home to support government's activities and endeavour to vote massively for NDC under Prof. John Atta Mills come 7th December 2012 general Election in order to continue building a better Ghana for all Ghanaians
The directorate of NDC German Communication Team headed by Chris Mensah and Kareem Abilla also pleaded with all members to come out boldly to defend the party without fear of being intimidated.
Recent media reports and stories about Former President Jerry Rawlings and his wife Nana Konadu, allegedly to have formed a new political party called the National Democratic Party (NDP) and will soon be presenting the party's documents to the Electoral Commission were complete fabrication and an utterly disgraceful attempt by the opposition NPP to mislead readers and the general public. The office of NDC Germany communication Team however, after having conducted research at the Electoral Commission traced no record of such a party. The party hierarchy in Germany therefore called on all NDC Members and sympathizers in the Diaspora to take such reports as false, baseless and calculated attempt to put discord into the ranks of the NDC party,
Among the issues raised at the meeting / rally were the immense unprecedented achievements of the Mills-led government in all sectors of the economy within three years by which course justified why discerning Ghanaians should retain the NDC in power come December 7th.
Eye Zu, Eye Za – Long live NDC, Long live Ghana.
Report by: Mensah Dekportor
[email protected] Tel: +491759861348