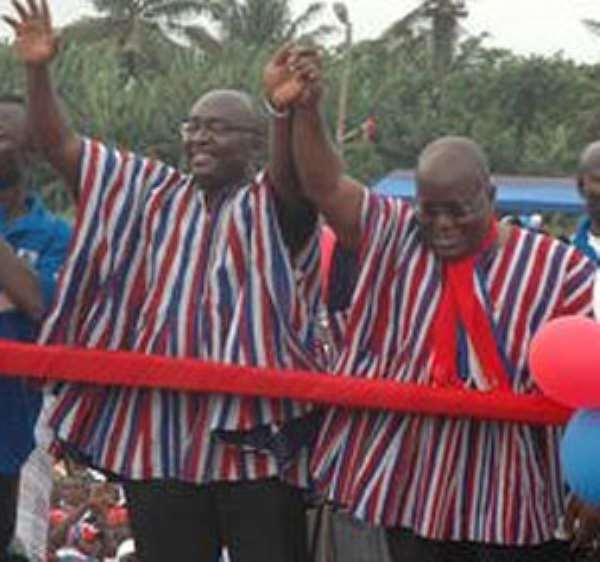 The nation waited, with baited breath, before and during the NPP-delegates congress, and Nana Addo Dankwa Akufo-Addo was, once again, given an overwhelming endorsement by to lead NPP into the 2012 general elections.
This interest was generated due to the unprecedented number of well-qualified and quality of men who contested for the position and I'm really grateful to all media houses that covered the event to enable Ghanaians get a feel of the action, through their respective live broadcasts, kudos!
As we all congratulated Nana Addo for emerging the winner, we never lost sight of the amazing political maturity exhibited by all the other contestants, who are now integral part of Nana's campaign. This is surely a positive development which we never witnessed in a post "FONKAR-GAME" NDC congress to elect saint Atta-Mills in sunyani.
Again, I thank all these other aspirants, for pledging support for Nana Addo on that day and I'm glad Nana has included them in his campaign, and I know they are going to be inextricably linked to Nana Addo's government because, these are dignified and very knowledgeable individuals.
Nana, in his acceptance speech, on that day, looked dignified and sounded very much presidential and it is my belief that he will bring to bear, his enormous political experience when elected president, in order to bring economic relief to Ghanaians, by building on the foundation laid by president Kuffour.
The nation, again, experienced a high level of anxiety on the night of 28th march, 2012, when Dr. Mahamoud Bawumia landed at KIA from his base in Zambia, amidst speculations that his trip back home was for the purpose of him being announced as the running mate for Nana Addo. Dr Bawumia was actually asked by journalists at the airport, as to whether his home-coming had anything to do with his running mate amibition.And as expected, and being smart person as he is, he skillfully dodged the question and only ended up keeping the nation on edge.
Dr. Bawamia unveiled
The following day, at NPP national headquarters at asylum-down (Accra), Dr. Mahamoud Bawaumia was again chosen by Nana Addo to partner him for the upcoming December general elections. Ghana is currently blessed with a 'senior' journalist who always receive letters cataloguing concerns of NPP-MP's and other NPP party officials who want their voice heard.interestingly,letters by officials of Atta-Mills-led NDC,which this individual is deeply in-love with, never deem it fit to send their concerns to him for publication.Now,you see the gargantuan irony here?
This individual supports Atta-Mills with all his hear and therefore will never do anything to rock the boat. As such, the current NDC intra-party wild inferno has continue to be invisible to him, while imaginary petty squabbles in the NPP are presented as looming unprecedented apocalypse.Now,if this is what journalism is all about, then trust me, some of us wouldn't bother going settling for the infamous dark days of "culture of silence"!!!
When he was first chosen to partner Nana Addo in 2008, many were those who expressed concern on the grounds that Dr. Bawumia wasn't well known within the rank and file of the New Patriotic Party. Others were of the view that there were some particular individuals around the flag bearer, who were very much instrumental in Nana's choice of Dr. Bawumia, and therefore not very happy with the idea.
This whining seems to be happening this time too. But whatever it is, I would urge all members of NPP to burry their differences and rally behind the flag bearer and "the chosen one", Dr. Bawumia, for the task ahead. The Atta-Mills-led government has totally failed and the good people of this nation have already made up their minds to throw them out at the polls on 7th December. However, we must not lose sight of the fact that, though NDC has no knowledge in governance because they are simply not critical thinkers. Members of NDC delight in pipe-dream-thinking when it comes to governance but are highly efficient in the area of winning elections through gargantuan electoral fraud.
Dealing with complacency
This characteristic electoral fraudulence prowess of NDC therefore presents NPP with a great challenge which we can only be surmounted when members solidly united behind the party's ticket.Already,a vagabond like Nii lantey vanderpuye,who ironically is at the right hand of saint Atta-Mills at the seat of government of a nation being superintended by the Almighty God Himself, has openly said he will never obey EC regulation that mandates all of us to desist from physically preventing people from registering but rather fill complain forms. This kind of mind-set, coming from no other person than the operation director of saint Atta-Mills, must certainly serve as a fore-taste of what is in-store for us, as a people, during the coming December elections.
I know Nana Addo is an astute politician with a sound sense of judgment and will therefore be able to adequately deal with situations where some individuals, with selfish interest, attempt to isolate him from the party foot-soldiers in particular, and the citizenry, as a whole. A proper channel of communication must be established between Nana Addo's offices to receive every single information coming from grass-root members of the party, and as best as possible, Nana Addo must be accessible.
The credentials of Dr. Bawumia are a public knowledge now. I believe he is a very knowledgeable person and will therefore be able to handle the position of a vice president and I wish him well. The best pre-requisite of one's ability to run a nation, is being an impartial judge and a good administrator and I have absolute confidence in Dr. Mahamudu Bawumia to deliver as vice president. However, I would urge Dr. Bawumia not to be perturbed by political desperados, who are bereft of ideas and therefore always engage in personal attacks and pointless "bla blaa blaaa", as Nana puts it.
Mrs. Bawumia and public life
I very much 'empathize' with Dr. Bawumia's young, beautiful and innocent-looking wife, Mrs. Samira Bawumia, about how she has been dramatically propelled into the lime-light. Madam, please take heart because the rank and file of NPP family is very much proud of you and that you will soon get used to the public attention. I really liked the way your little girl, Missy, was taking refuge behind you in a picture published on page 13 of 16/8/8 edition of the Daily Guide news paper. I learnt that picture was taken when the press besieged your home, soon after her daddy was confirmed for the position of a running mate in 2008. Kindly tell little Missy she will soon be moving to the flag-staff house where she can have some relative privacy away from the prowling cameras of all these paparazzi, o.k.?
I learnt Dr. Bawumia's wife is a daughter of Alhaji Ahmed Ramadan (Chairman of PNC party). Now if it is true, then this must send a clear signal to those executives and foot-soldiers of all political parties, whose judgments are always clouded by dogmatic politicking and therefore take delight in doom-mongering, to appreciate the fact that we are all one people with a common destiny, though we might find ourselves at different ends of the political divide.
My expectations of Nana Addo's presidency
Nana Addo will certainly be sworn-in as president on 7th December, 2013, and for me, I would like to see the eight years of his administration being centered on proper human development devoid of empty political jargons, and harness our unlimited natural resources, the latest being oil, for serious economic lift-off in order to continue to enjoy the trust of the people, come December 2016.
Our next group of leaders must learn to be welcoming to, and, comfortable with people who will tell them the truth. They must not surround themselves with sycophantic charlatans who will literally, crawl over broken-bottles just to touch the hem of public officials' cloak, with baseless gossips about others!
Crop of leaders under Nana Addo administration must not create fertile grounds for their close associates to engage in influence peddling, which always results in bringing offices of otherwise decent public office holders into disrepute and public derision.
There must be total co-ordination, co-operation and openness in governance.Retrogresive tendencies like selfishness, cronyism, nepotism and aggressive hero-worshiping, which has become the order of the day, right under the nose of saint Atta-Mills, must be abhorred by officials of Nana Addo presidency, since we are determined to make a giant leap into the future in order to be counted among comity of nations.
Corruption must be fought with all the force we can command, so that, we can stop the current gargantuan profuse bleeding of our nation's coffers by way of unprecedented "woyome-gate" thievery,disquised as judgment debt in order to make more resources available to be chandelled into empowering our noble and enterprising citizenry.
The eight years of president Kuffour administration laid a very sound economic foundation which has callously been destroyed by incompetent Atta-Mills and his bunch of 'chop-chop' crusaders.But,I have the firm belief that Nana Addo Dankwa Akufo-Addo's eight year rule will be very much capable of turning things round through pragmatic leadership, big dream approach to governance and restore the dignity of every Ghanaian by way of putting our current teaming unemployed youth into productive work and making avenues for quality/affordable education to every child.
We, as citizens, must also eschew lassitude, corruption, sycophancy, bad environmental practices and unnecessary splitting of hairs over issues of national importance. We must rather learn to love one-another, and also, love our beautiful country because, NPP in power with Nana in the saddle, Ghana is surely destined for best of times!
Nana has chosen Dr. Bawumia, and true to NPP party's character, the rank and file, backed by well oiled party machinery, has resolved to unite behind the ticket for a resounding victory on December 7th 2012.
The rich political experience of Nana Addo Dankwah Akofo Addo, coupled with unsullied economic/financial shrewdness of Dr. Mahamudu Bawumia, is what I will describe as NPP PANORAMIC TEAM that the citizenry can bank their hopes on for total realization of what I would call the ultimate Ghanaian dream.
Our readiness to market the ticket
Finally, to Dr. Bawumia, I say, the great NPP family, as well as all those who seek to liberate themselves from the current socio-economic abyss currently being inflicted on good people of this nation by saint Atta-Mills and his cabal of incompetent greedy bastrads,are solidly behind you. We eagerly look forward to benefiting from your remarkable wealth of technocratic shrewdness. We the loyal "all die be die" 'special forces' of the great NPP are ready to effectively market our ticket for total victory on 7th December, 2012
Finally, I know duplicitous Atta-Mills is going to unleash his foul-mouthed juvenile-delinquents-vagabonds on Dr. Bawaumia, with the expressed purpose of tarnishing his unquestionably impeccable image. Consequently, I would like to sound a very strong note of caution to these NDC buffoons who are totally bereft of ideas and therefore always resort to character assassination, that this time round, if they dare throw even one chocolate-pebble at our candidates, we shall swiftly launch in retaliation, a blistering barrage of TOMA-HAWK CRUISE-MISSILES. And if they think we are joking, then, to quote Koku 'the bull' Anyidoho; "let them DARE"!!!
Justice Abeeku Newton-Offei
E-mail: [email protected]