Tragedy: Truck Crushes School Children In Kumasi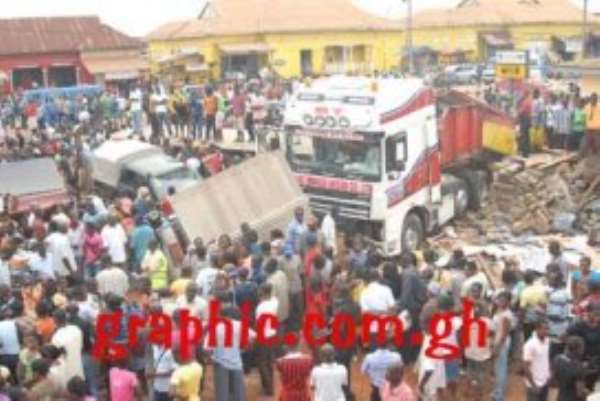 The articulated truck after the accident
An articulated truck this morning run over some pedestrians at Santasi in Kumasi, killing a ten-year-old school girl and a 45-year-old woman on the spot and injuring eleven others.
Five of the injured are in critical condition at the Komfo Anokye Teaching Hospital (KATH) while the body of the deceased have been deposited at the morgue.
The deceased were identified as Esther Afful, 45 and Sandra Akosah, 10.
The school children were waiting to catch a bus to school when the accident occurred at about 7am.
The vehicle, with registration number AS 5018 -12 was said to be traveling towards the Obuasi direction of the Kumasi-Obuasi road.
Eyewitnesses said the driver appeared to have lost control and run into the school children.
They said upon reaching the Santasi township, the truck first hit a pick up truck with registration number GW 3583 V, before veering off the road to run over the school children and some by-standers.
It took the intervention of Fire Service personnel to help rescue the injured some of whom are women who sell bread at the Santasi lorry station and were trapped in the wreckage.
The vehicle belongs to Isaac Owusu Ansah Company Limited.