Man Pierces Wife's Eye - After An Argument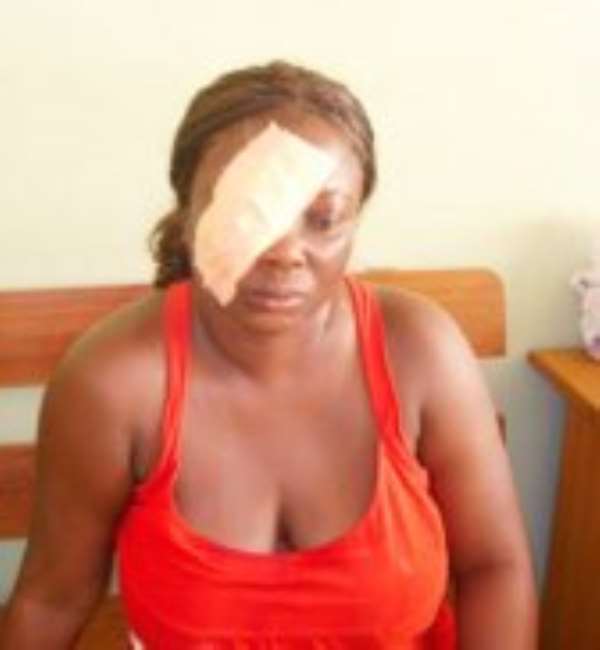 Rachael Gyamfua - Victim of domestic violence
An argument involving a couple at Amasaman in the Ga West municipality in the Greater Accra Region ended in bizarre circumstances when the man allegedly pierced the right eye of his wife with a knife.
The woman, Rachael Gyamfua, has reported at the Ga West Municipal Hospital for treatment but has refused to give the name of the husband for fear that he will be arrested.
The Medical Superintendent of the hospital, Dr James Clayman, who made this known to the Daily Graphic in Accra Thursday, said wife battery was rampant in the Amasaman area.
He said the woman reported at the hospital with blood gushing out from the ball of her right eye which had to be quickly sealed with a plaster to prevent further blood loss.
Dr Clayman appeared worried over the decision of the woman to protect her husband.
He said although the man had threatened to kill his wife the next time he struck, she still did not want to report the case.
According to Dr Clayman, 65 per cent of all eye cases reported at the Ga West Municipal Hospital at Amasaman resulted from domestic violence.
"These cases are due to injuries caused by slaps from spouses," he said.
Describing the municipality as the most endemic in terms of domestic violence, the medical superintendent said in January 2012, the hospital recorded 18 defilement cases, adding that those crimes were normally perpetrated by relatives and neighbours.
According to Dr Clayman, not a day passed without the hospital recording an incident of domestic violence, adding that the situation on the ground could be worse, given the fact that more of the cases were not recorded.
"Anytime I see people marrying in this municipality, I tell them not to call it marriage but battle," he said.
He said wife battery was very common among people in the community, adding that marriage had become a battleground where wives were always battered.
Amasaman is a rural community in the Greater Accra Region, with the people being mostly farmers.
But, according to Dr Clayman, as a result of the construction of the Ofankor-Kumasi road, which passes through the district, the people were now more cosmopolitan.
He said instances of domestic violence in the municipality were now being reported because more women now knew their rights.