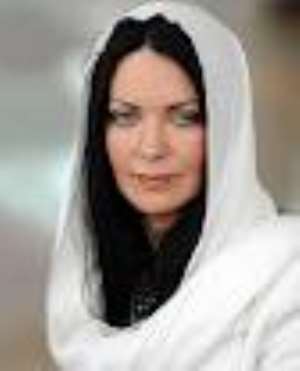 ISLAMABAD, Pakistan — A Pakistani court on Monday ordered three wives and two adult daughters of Osama Bin Laden to serve six weeks in prison for illegally entering the country and ordered their deportation after the prison term, the family's lawyer said. The lawyer, Muhammad Amir, said that Judge Shahrukh Arjumand had sentenced the five women for violating Pakistani immigration laws and fined each of them about $110. The lawyer said that they would be deported to their respective countries of citizenship by April 15. "The date of arrest is March 3. They will serve another two weeks," Mr. Amir said.
Bin Laden's three wives are currently under house arrest in Islamabad. Monday's court hearing took place under strict security as local authorities used the rented house where the family is being held as a makeshift court. "The Interior Ministry has been ordered to make necessary arrangement for the family's repatriation," Mr. Amir said. "I don't think it will take more than two weeks to get their passports ready and for clearance" from the ministry. Mr. Amir said he did not plan to appeal the sentence. "The wives had confessed to illegally entering the country," he said. "Courts usually take a lenient view if confessional statements are made." The court documents named two of the wives as Kharia Hussain Sabir and Siham Sharif, both citizens of Saudi Arabia, as are the two adult daughters who were charged. The third and the youngest is Amal Ahmad Abdul Fateh, 30, who is from Yemen. She was wounded in the American raid in which Bin Laden was killed. It is unclear how many younger children are still with the women. The wives have been in the custody of Pakistani authorities since last May when American Navy SEAL commandos stormed a house in Abbottabad and killed bin Laden.
The raid was highly embarrassing for Pakistan's military and spy agency, the Inter-Services Intelligence Directorate, which has grappled with accusations of complicity in protecting bin Laden and of incompetence in tracking him. While the two Saudi wives largely refused to cooperate with local investigators, Ms. Fateh, the Yemeni wife, has provided details about bin Laden's life on the run and the relative ease with which he managed to live undetected in rural Pakistan.
According to her account, bin Laden lived for nine years in Pakistan after the Sept. 11, 2001, attacks and changed residences five times. In March, Yemen urged Pakistan to quickly repatriate Ms. Fateh and her five children. But the Saudi government has not publicly shown any eagerness to have the two Saudi women repatriated.
FRANCIS TAWIAH (Duisburg - Germany)