NDC activist asks government to investigate anomalies surrounding Biometric registration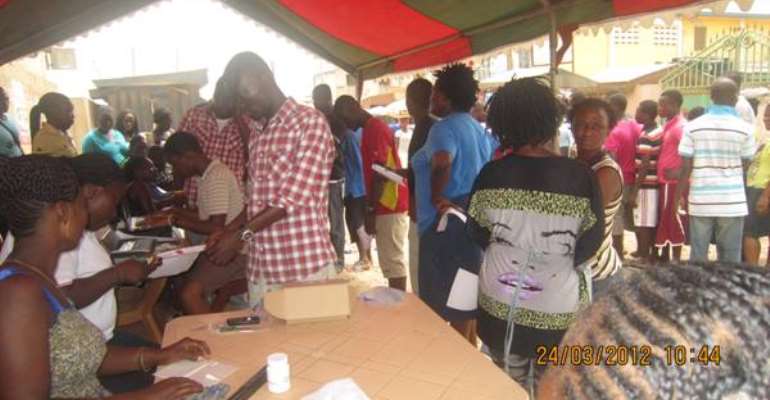 Accra, April 2, GNA – Ms Bridgitte Gordon, Ablekumah North Women Organiser of the ruling National Democratic Congress (NDC), at the weekend asked the State to investigate media reports about the irregularities surrounding the Biometric Voter Registration Exercise.
Speaking to the Ghana News Agency in an interview in Accra on Sunday, she said news about the use of macho men and some agents of some political parties to intimidate people seeking to take advantage of the on-going exercise are frustrating, hence the need for the government to take a stand to make the process credible in the eyes of the international community.
Ms Gordon said she was privy to an incident in Accra where a lady from the Volta Region, had her biometric voter identification card seized by a party agent on mere suspicion that she hails from Togo.
She challenged the executives of the NDC to pay special attention to the process by carrying out independent investigations into some of the reports, to boost the morale of the party faithful on the ground.
She said this was necessary because the party cannot win Election 2012 if the supporters and members of the NDC have not been captured in the National Voters Register.
Ms Gordon also called on the Electoral Commission (EC), National Commission on Civic Education (NCCE), Ghana Police Service and other stakeholders to verify the reports and institute measures to correct all the anomalies so that the outcome of the December Presidential and Parliamentary elections would not be in doubt.
She expressed the need for the EC and NCCE to team up with the media to step up public education about the process so that the problems associated with the exercise could be resolved amicably.
GNA