Sudan army claims new S. Sudan push into Heglig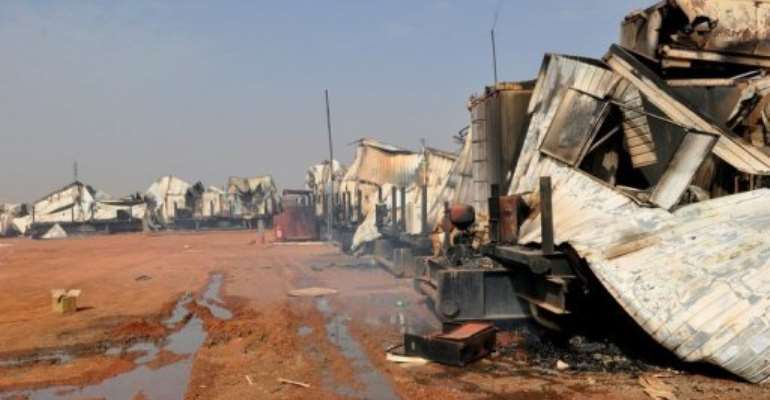 KHARTOUM (AFP) - Sudan's army late Sunday claimed South Sudanese forces launched another push into the Heglig oil region, adding to mutual accusations surrounding stalled crisis talks in the Ethiopian capital.
"In South Kordofan state today the South Sudanese army crossed the Sudanese international border and went three kilometres (two miles) into the Heglig area," army spokesman Sawarmi Khaled Saad was quoted by the official SUNA news agency as saying.
The disputed border between the two countries is undemarcated, and tensions along the frontier have mounted since South Sudan separated in July last year after an overwhelming vote following Africa's longest war.
Talks in Addis Ababa were called after clashes between north and South on Monday and Tuesday in the Heglig border area sparked global alarm and fears of a wider war.
On the eve of those talks late Friday, Sudan's army alleged the South sent cannons and tanks to back a rebel attack on Talodi, about 100 kilometres (60 miles) northeast of Heglig.
It said the rebels were defeated, suffering heavy losses.
The insurgents, from the Sudan People's Liberation Movement-North (SPLM-N), denied receiving Southern support and said the battle for Talodi was continuing for a third day on Sunday.
Late Saturday the Sudanese army spokesman alleged a battalion of South Sudanese troops had crossed the contested border and was moving towards Talodi.
Juba's chief negotiator Pagan Amum dismissed the accusation as "categorically untrue" and instead said the north was planning further attacks along the disputed frontier.
"We are here ... to attempt to make peace; the government of Sudan is waging war on South Sudan," Amum said in Addis Ababa.
"The government of Sudan is bombing us as we speak," said Amum, reporting fresh battles in the towns of Manga and Panakuach in Unity state.
A member of the Khartoum delegation, speaking on condition of anonymity, said Sudan "did not declare war and we have no intention to declare war".
Teams from both countries have been in the Ethiopian capital for the African Union-led negotiations since Saturday, but so far there have been no Khartoum-Juba talks.
Amum said the north's failure to send the head of its security delegation has delayed the proceedings but Khartoum's foreign ministry spokesman, Al-Obeid Meruh, said the defence minister would join the delegation after attending to prior appointments Sunday and Monday.
Sudan's delegation, in a statement issued by SUNA late on Sunday, repeated various accusations against South Sudan including the most recent alleged incursion into Heglig.
But it said Sudan still favours dialogue.
"We will make our best effort to cooperate with the government of South Sudan... in spite of all difficulties," the statement said.
Last week's clashes prompted Khartoum to call off an April 3 summit in Juba between President Omar al-Bashir and the South's Salva Kiir.
Analysts said there were elements in Khartoum, as well as the South, opposed to recent moves towards warmer relations between the two countries and suggested last week's flare-up over Heglig was an effort to sabotage a rapprochement.