31 March 2012
|
South Africa
Embattled S.African youth leader slams Zuma 'dictatorship'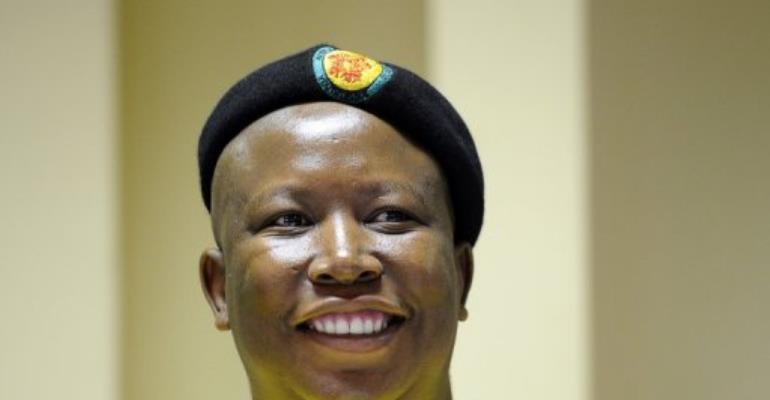 JOHANNESBURG (AFP) - Embattled South African youth leader Julius Malema accused President Jacob Zuma of "dictatorship" as jockeying intensifies ahead of a key ANC elective conference, local media said Saturday.
The remarks drew a stern rebuke from the ruling African National Congress, which has already moved to expel Malema for fomenting divisions within its ranks.
Malema is waging a lengthy appeals process that could ultimately land before the ANC's most important conference in December, where Zuma will seek a second term as party boss.
Given the ANC's enormous support among voters, that will virtually guarantee him a second term as South Africa's president.
"We have seen the youth of the ANC being traumatised... being expelled from their own home," Malema said in a speech late Friday at the University of the Watwatersrand, according to The Star newspaper.
"It is under President Zuma we have seen a critical voice being suppressed. We have seen under President Zuma democracy being replaced with dictatorship. We have seen an intolerance... people who become impatient with the youth," he said.
"Maybe our ideas serve as a threat to the current leadership," he added.
Malema appeared alongside the ANC Treasurer Mathews Phosa. Last Sunday, he was joined by South Africa's Deputy President Kgalema Motlanthe at a public rally.
Motlanthe has been rumoured as a possible rival to Zuma's bid to remain ANC chief.
But in a statement, the ANC insisted on the party's unity and rebuked Malema for his latest attack on Zuma.
"If this assault and insults on the ANC leadership by Malema continues, he will be unwittingly dragging himself to a precipice where a point of return is impossible in the eyes of ANC members," the party said.
"Comrade Zuma is a leader democratically elected by all members of the African National Congress. We all hold him in high esteem and no amount of attack on his good integrity will change or erase that," he said.
"We remain totally opposed to any notion that President Zuma is a dictator and that he traumatized any structure of the ANC, including the ANCYL."
The ANC has governed South Africa since Nelson Mandela won the first all-race elections in 1994 and continues to win elections by wide margins.
But Malema has tapped into the simmering discontent among the nearly 40 percent of the population still living in poverty and frustrated at the difficulty in finding work in a country with unemployment at 23.9 percent.