Young people, Farming and Food – Africa's agrifood policy options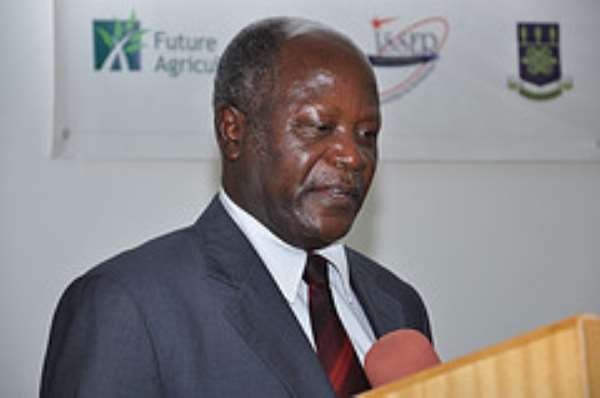 AGRA President Dr. Ngongi
Issues related to the changes, challenges and policy implications for the development of Africa's agrifood sector and the involvement of youth took centre stage at a 3-day international conference in Accra, Ghana.
The forum dubbed "Young People, Farming and Food" was organized by the Future Agricultures Consortium (FAC) and the Institute of Statistical and Social Economic Research (ISSER) at the University of Ghana, to debate research findings and policy options for youth engagement in agriculture.
Participants looked at how the agrifood sector is changing, due to technology, urbanization and economic growth, and the implications for young people to be involved in processing, marketing, retail, input supply and research.
Alternative approaches for the development of the agrifood sector and implications for young people taking into account young people's interests, goals and aspirations were also explored.
The poor participation of young people in farming and the agricultural economy directly threatens the future of Africa's agriculture and rural economic transformation, said Dr. Namanga Ngongi, President of the Alliance for Green Revolution in Africa (AGRA).
"Lack of support to improve productivity and bring innovation into the sector has in many ways pushed our people away from business opportunities in agriculture and into more attractive sectors like information and communication technology (ICT) or finance", he stated.
Dr. Ngongi described the conference as 'important and timely' "at this watershed moment in Africa's development when agriculture has been re-discovered as the fundamental driver of the continent's economic and social transformation".
He observed that despite agriculture being the backbone of sub-Saharan Africa's rural economies, the vast majority of the continent's human assets and capital remain locked out of the economic sector across the entire agric value chain.
To make agriculture attractive to the youth, Dr. Ngongi called for investments in education at all levels, support for agricultural innovation, building of market infrastructure and improving the business environment in ways that will raise incomes and expand the agriculture value chain.
But divergent views emerged from discussions regards how the youth should be involved in policy dialogue and policy formulation.
According to Dr. Samuel Kojo Dapaah, a Special Advisor to Ghana's Minister of Food and Agriculture, the youth should be better off so long as their concerns with agric mechanization, transportation, water and other basic amenities are provided.
For him, these provisions are more critical than bringing young people to directly engage in policy dialogue and policy formulation.
The view was however challenged by Dr. Ngongi, who believes there should be new ways to having youth express their views collectively in policy formulation.
AGRA has an initiative which helps governments build their policy-making capacity and formulate appropriate agricultural policies.
One of its key components is the creation of national policy hubs which bring together analysts, government officials and representatives from farmer groups, civil society, and the private sector to define priorities and develop policies that benefit smallholder farmers and others key players along the agriculture value chain.
Dr. Ngongi said such policy hubs should have youth representation to offer them the platform to articulate their opinion in agriculture policy formulation.
"The present generation who are running the agrifood sector is going to die out and unless it is replaced by the younger generation, the sector will collapse", noted agrifood consultant Mike Mortimore.
For him, the role of governments to is to create incentives for people to find opportunities for themselves autonomously in the economy as a whole, including agriculture.
Ben White, a retired professor of rural sociology shares the view but cautions against "the rush to transfer everything to the younger generation because what are the older people then going to do? We mustn't leave them out but the thing is you mustn't exclude the younger generation".
Concluding submissions by conference participants centered on innovative approaches to transform the profitability of agriculture for the smooth transfer of the agrifood sector to the next generation.
The conference examined research and policy perspectives relating to current thinking about effective approaches on how young people can engage with the agrifood sector in Africa – as producers, entrepreneurs, employees, consumers and citizens.
The Future Agricultures Consortium (FAC) would be providing funding to support research projects geared towards establishing a much stronger research base to inform policy around young people and agrifood in Africa.
"What we're going to do now is to take the outputs and the papers, the questions and so on and reflect on them a little bit and then work with all the different researchers and out partners to build a research programme that will help policy makers by providing them much stronger policy relevant research base", stated FAC's Jim Sumberg.
Story by Kofi Adu Domfeh/Luv Fm/Ghana