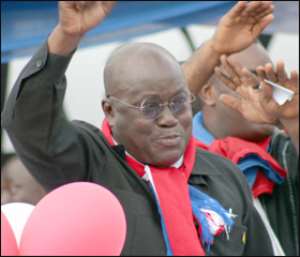 Many Hearty Cheers to a Rare Gem, Nana Addo Dankwa Akufo-Addo.
A great tide in history flows. And as it flows it brings back great and happy memories. Memories of an articulate, energetic, confident, hardworking, courageous, patriotic, pragmatic and selfless young man, then in his early thirties, crisscrossing the country to mobilize Ghanaians of like minds to resist the imposition of an alien form of Government on the people. And as Prophet Jeroboam says in the play "Jero's Metamorphosis", "there are eggs and there are eggs", for it is not every egg that can be fertilized . Nana Addo Dankwa Akufo-Addo is one of such few eggs which can be fertilized to produce chicken in large numbers.
Nana, you are indeed the Abraham, the Joseph, the Moses, the Joshua the David, the John, the Peter and the Paul of our time. Ghanaians, like the Biblical Jews have been roaming in the wilderness under the tutelage of the fumbling and wobbling Mills Government. We have resorted to living only in the present without making provisions for the future. Armed robbery has become the order of the day with the moribund Mills administration having no panacea to check the menace. Cholera, which for many years, had been banished from our health dictionary has all of a sudden found its way back into our homes and killing people more than the dreaded Aids scourge – all thanks to the re-introduction of filth into our social curriculum by the visionless and atavist government of Professor Mills.
Under this clueless regime of Professor Mills, a new set of billionaires have emerged in our body politic. These NDC swindlers and fraudsters are "chopping our money nyafu nyafu" and daring the rest of us to challenge them if we have balls. But together with our Flag Bearer, Nana Addo Dankwa Akufo-Addo, we will prove to these enemies of progress that the rest of us are not bastards, for we are indeed true sons of our Fathers. We shall use all legitimate means at our disposal to ensure that these greedy bastards account for their stewardship. Thankfully, Our President in-waiting, Nana Addo Dankwa Akufo-Addo has gone through the rudiments of governance and his rubrics are reckoned to be amongst the highest or best in Ghana and the Sub-Saharan Region.
Nana, you have the unique boldness, frankness, forthrightness and uprightness to raise issues which border on "no go areas". This has to do with the provision of free secondary school for all Senior High Students, This has been a subject that even Angels, at times fear to tread. You have spoken your mind candidly on the subject and have vowed to make it possible when elected President. The provision of free education at the SSS level is a matter which is very dear to your heart. You have in return received many cruise missile attacks from unpatriotic, misguided and disgruntled hyenas, serpents, rabid dogs, hawks, scorpions, tarantulas, hydra, vultures, vampires, "kaakamotobis" and miserable sycophants.
In all these, you have remained like the Rock of Gibraltar by maintaining a calm mien which at times baffles many people and endears you to a lot of Ghanaians. Nana, you are indeed an enigma, for only decent, patriotic and fair-minded people understand you! Your political opponents feel you are confrontational, but discerning Ghanaians think otherwise. I would like to recall certain things you told me and some few party faithful in October, 2007. "On the allegation that I am confrontational, I want to state that this is not totally true. Difficult situations demand drastic solutions. So my being confrontational depends, to a large extent, circumstances prevailing at a particular moment. We did not defeat Kutu Acheampong and Jerry Rawlings with bread and butter. It would have been the greatest laughter and humiliation of the century if we had gone to plead and parley with these two. We had to confront them headlong with our blood and a firm conviction that we were fighting a just cause and we won".
On another occasion, you repeated the axiom that "we owed a responsibility to the safety of the living, the Memory of the Dead and the security of our children yet unborn". I would also like to recall the patriotic stance you exhibited at the end of the 2008 Presidential Elections. You lost by the slimmest of margins but you exhibited maturity and level headedness by conceding defeat. That stance is in sharp contrast to the recalcitrant and unpatriotic posture adopted by our next door neighbor, Laurent Gbagbo of Cote D'Ivoire. Ironically, President Mills and the NDC who are beneficiaries of your concession hailed Gbagbo by portraying him as a nationalist.
Wonders, they say, shall never end. Your patriotic stance on the 2008 Presidential Elections, tore to shreds the argument that you are confrontational. No, you are not! History, they say, has a way of vindicating the just. At the appropriate time, you will surely be vindicated as you were vindicated in the Ivorian issue. For your principled stance on the Ivorian issue, many people all over the world view you as a man of vision, a man who can see into the future and predict which tree will bring forth the finest fruit and which tree will not.
You are indeed a combination of both Moses and Joshua. – The man with many friends; the man to whom people turn to for advice and comfort. Adjectives to describe your sterling qualities cannot be found in any Dictionary, either modern or ancient. You are affable, brilliant, charismatic, caring, considerate, courteous, conscientious, determined, dynamic, helpful, kind, meticulous, pragmatic, selfless, God-fearing and good. You are an embodiment of what every Ghanaian wishes for him/herself. You are indeed great! People who do not know and understand you envy you for your uprightness, truthfulness, frankness, boldness and faithfulness. You are not one of such wily politicians who will equivocate with words just to deceive people. Your 'Yes' is Yes, and your 'no' has always been no. If you say you will do something, you will surely do it.
Nana, God in His infinite mercies has raised you up to be the John and the Jeremiah of this country to warn us of the impending catastrophe that would befall this great nation of ours if we should continue to tread the treacherous terrain the fumbling and wobbling Mills' administration is leading Ghana.
Your intimidating credentials and presence make your opponents cower in fear. Your radical tremendous brilliance and 'unequaled grasp and articulation of issues are some of the sterling qualities that have put you shoulder above all other politicians in the country today.
A highly astute politician and a detribalized Ghanaian, you are the beacon of hope for all the downtrodden people of the country because you act as the mouthpiece of such people who feel betrayed by the lackluster performance of the fumbling and wobbling Mills' administration. Mr. President –in-waiting, as God adds one more year to your life, I pray to the Almighty Father to use you as an instrument of light to illuminate all the darkest parts of the average Ghanaian heart. May God use you as a point of contact to bring melodious tunes to the lives of many Ghanaians who are living in fear and under the heavy yoke of NDC oppressors. President Mills, aided by his unrepentant political atavists have laid siege on our collective till and are using both hands and legs to grab property here and there. Ato Ahwoi has gone through the back-door to regain his property which he used as collateral to secure a loan from National Investment Bank, but could not pay back. The buildings were converted into a Training School for staff of NIB. But, on coming to power of the NDC, the Ahithophel of a Chief Adviser cajoled the Board Members of the Bank to auction those buildings and that was how Ghana lost some of its strategic assets.
Talk of Stan Dogbe and his opepepeepee, Muntaka and his pampers and "kyinkyinka", Ayariga and his millions for serial callers, according to Dr Asemfofro. Hanna Bissiw, Ama Benyiwa Doe, John Abu Jinapor and many others in the NDC have put up magnificent mansions, less than two years in office and you cannot but shout that these are people have no conscience. We should not overlook the criminal intent of the NDC MP for Sene, Twumasi Appiah, who duped some foreigners of billions of Cedis under the guise of selling gold to them. What has happened to the case? Does an MP with such criminal intentions deserve to be in our august law making body? The answer is a big no! Who will cage this cabal of nation wreckers? Nana, "agye se wobamu" (You have to step in). Nana, you are the chosen vessel for this onerous task. Yes, the cleansing and rescuing mission will start at the beginning of your tenure of office in January, 2013.
I know the stuff you are made of and so I will not hesitate to make positive declarations where you are concerned.
Under your presidency, your government will initiate and implement programs and policies which will go a long way into transforming the economy of the country. With such pragmatic policies in place, we will not go, cup in hand to beg for our food and other necessities of life from foreigners. They will therefore have no right or opportunity to dictate to us the standard and type of living we should follow thereby ridicule us and our fellow Africans. In short, under your Presidency, the country will attain the commanding heights of the economy.
I am praying hard for the dreams and yearning of most Ghanaians to come true. Nana, you will be elected President of the country we love and cherish so much. With you at the helm of our ship of state, Ghana will experience a crescendo of positive things in all their ramifications. Insults will be banished into the archive of waste paper baskets. Respect for God and our fellow human being will be the bed rock of your administration.
Mr. President –in-waiting, the stars which led the wise men to the place where Jesus was born will surely lead Ghanaians to remember your good works and vote for you. Surely, Goldfish has no hiding place and you are and will still be our Gold Fish come December, 2012 when Ghanaians go to the polls to elect a new President. With you as our leader, a New and glorious chapter will be written in the life of every Ghanaian. It will be a Chapter of Hope and the sky will not only be our limit, but our launching pad as well. Nana Addo Dankwa Akufo-Addo, as you clock 68 years, I pray for God's infinite wisdom, good health, long life and positive attitude to issues. May the future see a lot of group co-operation amongst Ghanaians from all walks of life under your inspirational leadership.
We thank the Almighty God for your life. May He accede and grant us the wish of all Ghanaians - that you, Nana Addo Dankwa Akufo-Addo the goal scorer and rain maker be elected the next President of Ghana.
It is on this note that I, on behalf of ordinary members of our noble tradition, wish you a fulfilling and Happy Birthday. Remain blessed.
Daniel Danquah Damptey ([email protected]) (0243715297)