I Am Kumasi Mayor – Sarpong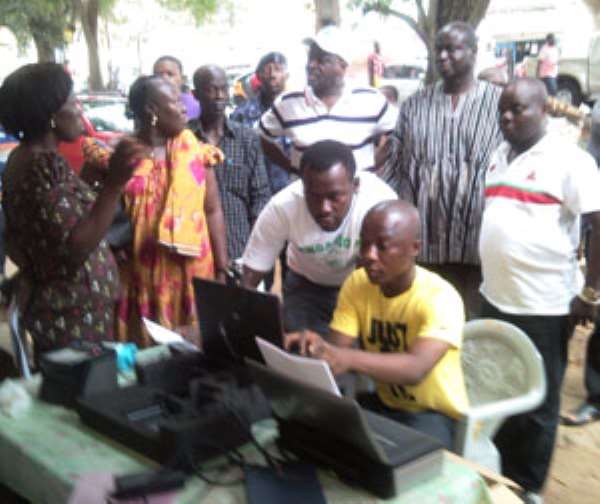 KMA Boss Samuel Sarpong (in smock) and Dr. Agyeman Mensah (in cap) having discussions with the EC official at Nsuoase registration center
KUMASI MAYOR Samuel Sarpong was quite taken aback last Saturday morning when an officer of the Electoral Commission (EC) asked him who he was when he visited a biometric registration center in the city.
The KMA boss who was with Ashanti Regional Minister, Dr. Kwaku Agyeman Mensah visited the Nsuoase registration centre in the Subin constituency to inspect the process when registration began on March 24.
Upon arrival, the Mayor and his team greeted everyone present including EC officials, political party agents and those that were in the queue to register.
Afterwards, Mr. Sarpong who thought the EC officials knew who he was asked a lady EC officer in charge of the center about how the process was going and the difficulties they had encountered so far.
To his surprise, the woman was not forthcoming with answers to the simple questions he asked so he repeated the question but the woman stared at him strangely.
Then she asked, 'Please sir who are you and why do you want to know what we are doing here?'
Mr. Sarpong who seemed taken aback by her inquiry replied:   'So you don't know me?' then said 'I am the Kumasi Mayor.'
He then pointed at Dr. Agyeman Mensah who was standing close to him and asked her 'Who is this man?' but again the woman replied, 'Please sir, I don't know.'
Mr. Sarpong who looked utterly shocked by the response from the EC official answered, 'He is Dr. Kwaku Agyeman Mensah, the Ashanti Regional Minister.
The KMA boss then burst into laughter and jokingly said the woman should be ordered to slaughter a sheep to pacify the gods for committing the unpardonable offense of not knowing her Mayor.
The visit by the Mayor and the regional minister was to enable them monitor how the biometric registration exercise was going   in the regional capital when it first opened.
FROM I.F. Joe Awuah Jnr., Kumasi