Egypt protesters tear down wall near parliament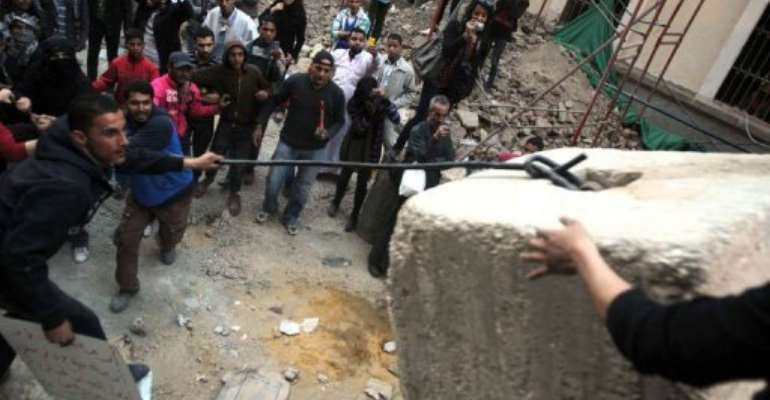 CAIRO (AFP) - Dozens of anti-military activists tore down a wall in central Cairo on Friday erected by the military in December to end bloody clashes with protesters.
The activists chanting anti-military slogans used sledghammers and cables to bring down the concrete blocks of the wall built on a main street leading to parliament near the protest hub of Tahrir Square.
Riot police stood behind another barrier of barbed wire but did not intervene.
The military has built walls in the district to keep protesters away from nearby government offices and security headquarters after a series of bloody clashes with anti-military protesters since November.
The military, which took charge after a popular uprising ousted president Hosni Mubarak last year, says it will hand over power after the results of a presidential election are announced in June.
It was idolised after the uprising for not siding with Mubarak but has since come under attack for cracking down on dissidents.
Soldiers were filmed stomping on a prone woman and other protesters during the December clashes, which left at least 16 protesters dead.