Do not exaggerate registration centre incidents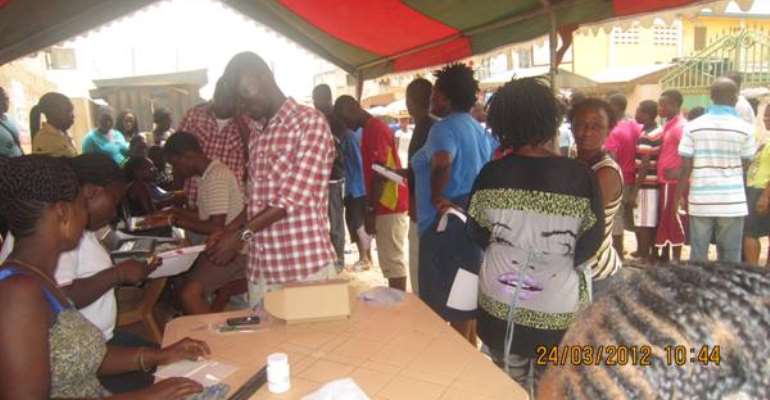 Mampong (Ash), March 30, GNA – An appeal has been made to political parties not to exaggerate minor incidents at the biometric voter registration centres to prevent needless tension.
The panic and fear mongering should stop to encourage every qualified Ghanaian to get his or her name on the voters' roll.
Madam Naomi Birago, Registration Officer (RO) of the Bronkrong D/A Primary School, in the Nsuta-Kwamang Beposo Constituency, made the appeal through the Ghana News Agency (GNA) during a visit to the centre.
She said it was important for all to share in the responsibility of making the exercise a big success.
Her centre had not encountered any technical challenge and that things had been smooth so far. Four hundred and nine voters had registered as at 0900 hours on Thursday.
In the adjoining Constituency of Asante-Mampong, the registration was going on peacefully as people calmly and patiently went through the process.
There were, however, challenge; a faulty generator and lack of back-up batteries at the Saint Paul's M/A JHS "A" and "B" centres.
The special duties officer, Mr Kwadwo Korankye, confirmed this to the GNA.
Mr Isaac Agyekum, RO of the Anglican Primary, said the Electoral Commission (EC) must step up its education to encourage applicants to have patience at their designated centres.
This, he said, would help to prevent congestion and confusion at centres where the exercise is presently taking place.
Mr Frank Ohene Okrakue, the Municipal Electoral Officer, gave the assurance that they have enough materials for the registration.
The Municipal Chief Executive (MCE), Mr Daniel Appau Ohyeamang, asked the two leading political parties, the New Patriotic Party (NPP) and the National Democratic Congress (NDC) discourage their belligerent supporters from interfering with the registration.
GNA