Islamists bomb Nigerian police post; four killed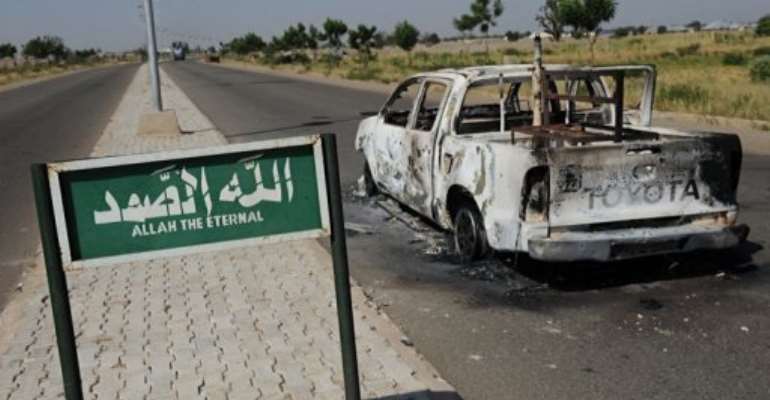 KANO, Nigeria (AFP) - Gunmen bombed a police station in Nigeria and freed more than a dozen prisoners, leaving three assailants and a policeman killed in an attack claimed Thursday by Islamist group Boko Haram.
Gunmen stormed the station in Damagun in Yobe state late Wednesday, leaving it burnt and an officer wounded. A house being used as a military post was also burnt, while 14 inmates were freed from a prison at another location in town.
Yobe state police spokesman Gbadegesin Toyin said three of the attackers and a police officer were killed, while two other policemen were shot and injured.
Toyin said the police station, located in northeastern Nigeria, was completely burnt in the attack.
"The gunmen also burnt down a house used as a military post and an adjoining building housing some Korean doctors employed by the Yobe state government," he said.
A purported spokesman for Boko Haram told reporters in a conference call that the group was responsible for the attack.
The spokesman, who goes by the name Abul Qaqa and who has claimed to speak on behalf of the group a number of times in the past, said they launched the attack to free one of their members who had been arrested in the town.
"We were responsible for last night's attacks in Damagun in which we burnt down the police station and a military lodge and also broke into the prison and freed inmates," he said.
"We carried out the attacks in order to free one of our members arrested in the town following a tip-off and detained in police custody. We succeeded in our mission."
One resident said what appeared to be a large crowd of attackers were shouting "Allahu Akbar" (God is greatest) as they stormed the building. Another resident said the gunmen engaged the police in a shootout before hurling explosives into the station.
Meanwhile two gunmen shot dead a police inspector in Maiduguri, in neighbouring Borno state.
He was killed while shopping in the city's Gamboru market, Borno state police spokesman Samuel Tizhe said.
Maiduguri has long been considered Boko Haram's base and the city has been repeatedly targeted for its attacks.
Police promised rewards for leads on Boko Haram.
"The police have promised 500,000 naira ($3,125, 2,380 euros) for information that leads to the arrest of Boko Haram Islamists and a reward in like sum on information leading to the recovery of arms," Tizhe said.
A military task force in Borno state has been carrying out door-to-door searches in a bid to crack down on Boko Haram.
The Islamist group has been blamed for scores of attacks, mainly in Nigeria's north. A bid to hold indirect talks between the government and Boko Haram in recent weeks appears to have broken down.