28 March 2012
|
Business & Finance
Peasant farmers angry with gov't over agric extension officers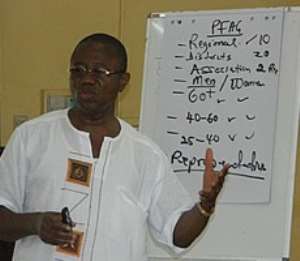 Peasant farmers are demanding explanation from government on why it has stopped absorbing the extension officers trained by the country's agric colleges.
The farmers say while the lack of agric extension officers was hampering their work, products of the various agric colleges were not engaged by the government – a move they say is discriminatory.
The president of the Tono Irrigation Cooperative Farmers Union, Mr Ahmed Bogobiri said this at an advocacy training workshop for peasant farmers in Accra.
He said it was inconsistent for the government to profess to be working towards boosting agricultural production whilst at the same doing things that undermine the farming business.
Mr Bogobiri wondered why teachers and nurses trainees enjoyed automatic entry into the Ghana Education Service and Ghana Health Service respectively but technical officers from agric extension officers whose services are crucial for the application of modern technologies in agriculture do not enjoy any such dispensation.
"Is it that we farmers don't matter to the government? Is it that we don't produce to feed the [nation]"? he asked.
He said the government must reconsider the situation and engage persons who have been trained as extension officers to help farmers produce more.
The lead trainer of the Peasant Farmers Association of Ghana, organisers of the advocacy training workshop, Mr Ambrose Yena, said the training was designed to empower farmers to advocate for sufficient extension officers.
He said the extension officer-farmer ratio of 1 – 1,300 was simply impracticable.


Story by Ghana l Malik Abass Daabu/Myjoyonline.com