Malians go back to work as regional leaders weigh coup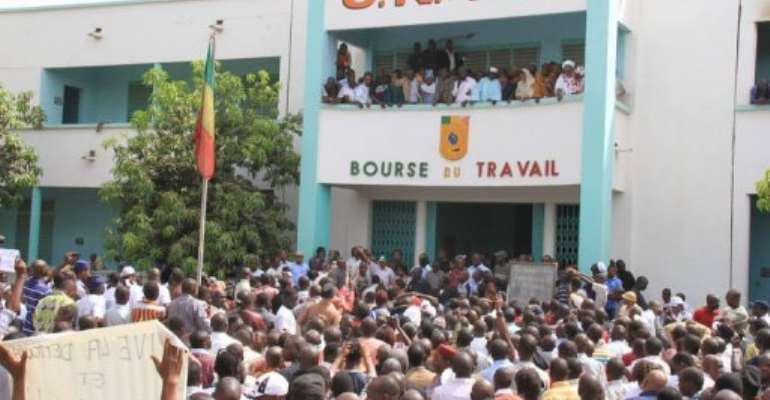 BAMAKO (AFP) - Businesses reopened and children returned to school Tuesday as Malians heeded a call by the junta to return to work, but the putschists faced further pressure as west African leaders held emergency talks.
The military rulers were trying to restore order as they fought off opprobrium at home and abroad for their ouster of President Amadou Toumani Toure on March 22 in anger over the regime's handling of a northern Tuareg rebellion.
Toure's situation has been unclear since he was forced to flee when mutineering soldiers shot their way to his palace but France said its ambassador had had a reassuring phone conversation with the ousted leader.
Desert nomads fighting for the independence of their Tuareg homeland have exploited the disarray in Bamako to make gains on the battlefield, prompting the junta to call for a ceasefire and negotiations.
"We call on them to cease hostilities and to come to the negotiating table as soon as possible," junta leader Captain Amadou Sanogo said late Monday.
"Everything is negotiable except national territorial integrity and the unity of our country," he added.
In Abidjan, west African heads of state met to discuss the coup, which has already led to Mali being suspended from the African Union, and seen crucial aid frozen by the United States, Europe and Canada.
Seven heads of state from the 15-member ECOWAS were attending the summit called by the grouping's current chairman, Ivorian President Alassane Ouattara.
"We must make important decisions at this summit that relate to the future of democracy," Ouattara said.
As political uncertainty continued, the Malian capital teemed with activity for the first time since the coup, after a call by the junta for people to go to work.
Streets were choked with traffic as taxis and minibuses took up their usual routes. Pedestrians filled the streets, groups of children headed to school and police returned to directing traffic. Only a few soldiers were visible.
Lawyer Yehiya Toure said: "It isn't because these thugs (overthrew government) that Mali is going to stop working. People haven't worked for several days, their pockets are empty."
However soldiers blocked lawmakers trying to enter the national assembly which was dissolved during the coup, prompting MPs to hold an "extraordinary session" at the city's labour exchange to condemn the putschists.
"We launch an urgent appeal to regional and international institutions to assist with a rapid return to constitutional order," lawmaker Mohamed Coulibaly told AFP.
The band of low-ranking officers justify their takeover of an "incompetent" government by arguing they are insufficiently equipped to face the Tuareg rebellion.
The Tuareg have said in recent days they are close to capturing Kidal, a key town in the northern triangle of the bow-tie shaped nation which falls in the zone they call Azawad -- their tribal homeland.
As the coup played out on they captured the small towns of Anefis and Bourem, abandoned by soldiers.
On its website Tuesday the Azawad National Liberation Movement claimed the death of militia leader Amadou Diallo, fighting alongside the army, on Sunday, saying 16 soldiers had been killed in the attack and they had taken one prisoner.
They Malian army said they fought off at least one attack on Kidal in recent days as conflict continues in a region some 1,000 kilometres (620 miles) from Bamako.
Several northern towns have fallen since the Tuareg launched their first rebellion since 2009 in mid-January and the fighting has caused some 200,000 to flee their homes.
In addition to the military woes this has also compounded a growing humanitarian crisis as the region is facing severe food shortages after a drought.
Toure was due to step down after April 29 polls as he has served the constitutional limit of two terms. He is credited with ushering in democracy after overthrowing the country's last dictator Moussa Traore 21 years ago.
France said Tuesday its ambassador to Mali had made phone contact with the ousted president.
Christian Rouyer "was able to speak on the phone to president ATT, who reassured him over his fate," French foreign ministry spokesman Bernard Valero told AFP without elaborating on the president's whereabouts.