27 March 2012
|
General News
FDB Stops Production Of Illicit Sex-Enhancing Drink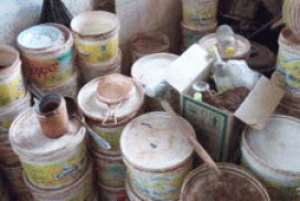 The Food and Drugs Board (FDB) has locked up the production unit of an illegal sex enhancing alcoholic beverage known as "Two Fingers Special" concealed in the toilet and the bathroom of the manufacturer.
The product, which has no label, manufacturing/expiry date, batch number and FDB number, is said to have been sold to thousands of men seeking to enhance their sexual performance.
Currently, the FDB has locked up the premises and arrested the owner of the facility.
When graphic.com.gh got to the production unit, there were several jumbo-sized barrels of the locally made gin "Akpeteshie" and big bags of a powdered brown substance, as well as hundreds of plastic buckets packed at the premises.
Speaking to the media, the Western Regional Director of the FDB, Mr Solomon Agampim, said the board had had information concerning the production of the drink since 2010 but it was unable to locate the source.
He said the FDB later found the source of the unapproved alcoholic beverage in Takoradi.
Mr Agampim said the ingredients in the concoction were a source of worry to the board, since they could seriously affect the lives of the people who patronised the drink.
He said samples had been taken and would be forwarded to the forensic laboratory for analysis to determine the chemical composition of the drink and its effects.
The manufacturer of the drink, Mr Joe Krampah, said he had been in the business for some time now but he did not seek the approval of the FDB nor the Ghana Standards Authority.
He said he used akpeteshie, mixed it with some spices and blended it with local herbs, contending that the product was safe for consumption by his standards.