Sudan denounces South, suspends summit, after border clashes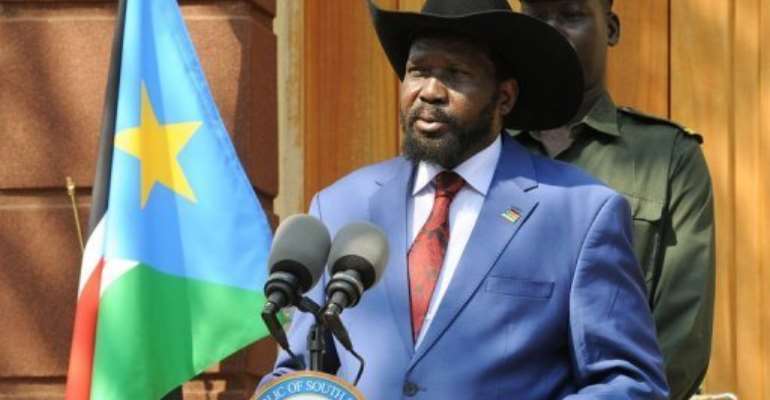 KHARTOUM, Sudan (AFP) - Sudan on Tuesday accused South Sudan of hatred and deceit and suspended an April 3 summit meeting between President Omar al-Bashir and his southern counterpart after fighting along their border.
"The government announced that it suspended Bashir's visit to Juba after the South Sudanese army attacked Heglig," state radio reported early Tuesday.
Comments by the South's leader Salva Kiir that his troops had taken the northern oil centre "reflected extreme hatred to Sudan," said Information Minister Abdullah Ali Massar, the official SUNA news agency reported.
South Sudan had engaged in "deceptive and misleading acts" when it signed accords with Khartoum at African Union-led talks in Ethiopia, and when last week it invited Bashir to the summit, said Massar.
The proposed talks between Bashir and Kiir had been aimed at easing tensions that pushed the two countries to the brink of war as recently as early March.
Fresh clashes erupted Monday along the disputed border.
Kiir warned of renewed war, charging that Sudanese aircraft and ground troops attacked multiple positions in South Sudan's oil rich border regions.
The Sudanese army spokesman, Sawarmi Khaled Saad, initially said "limited clashes" had occurred between his forces and those of South Sudan along the border.
Late Monday Sudan's military said a large contingent of South Sudanese troops had crossed several kilometres (miles) over the frontier, but the Sudanese soldiers had "defeated them and killed a number of their troops."
But Kiir said: "This morning the (Sudanese) air force came and bombed... areas in Unity state."
Their troops had fought back and taken Heglig, he added.
"After this intensive bombardment our forces.... were attacked by SAF (Sudan Armed Forces) and militia," he added, speaking at the opening of a ruling party meeting in the southern capital Juba.
"It is a war that has been imposed on us again, but it is they (Khartoum) who are looking for it," said Kiir, adding that he did not want the conflict to resume.
The Sudanese military, cited by SUNA, said southern troops had sought a meeting with a Sudanese commander Monday morning over "allegations that SAF crossed the border".
That afternoon, southern troops had moved over the frontier in force, it said.
The SAF spokesman alleged rebels of the Justice and Equality Movement (JEM) from Sudan's western Darfur region had "exploited this clash" to target Sudanese troops in the Heglig area but had been repulsed.
Both countries claim parts of the oil-rich territory of Heglig.
The Justice and Equality Movement said that while it had some fighters in western South Kordofan, they had not clashed with Sudanese troops on Monday.
Border tensions have mounted since South Sudan split from Sudan in July after an overwhelming vote that followed Africa's longest war.
In late February and early March Khartoum threatened retaliation after accusing the south of backing a rebel attack in the disputed border area of Jau.
Air strikes followed on an oilfield in the south's Unity State, an attack Juba blamed on Khartoum's forces.
Later in March, after months of failed negotiations, a dispute over oil fees and mutual accusations of backing rebels on each other's territory, South Sudan's chief negotiator Pagan Amum said relations had improved.
Amum and a South Sudanese delegation visited Khartoum last week to invite their "brother" Bashir to the summit. They reported that Bashir accepted the offer.
But on Monday -- before word emerged of the fighting -- officials in Khartoum said it was not yet certain he would make the trip.
South Sudanese army spokesman Philip Aguer said there had been casualties but he did not have a full report.
"... at the last communication, which is very difficult, there was still fighting," Aguer said. But the army did not want the clashes to spiral into war, he added.
Earlier Monday SUNA reported that Bashir had issued a decree forming a high-level committee "responsible for preparing the training camps" for fresh recruits to the People's Defence Force (PDF) militia.