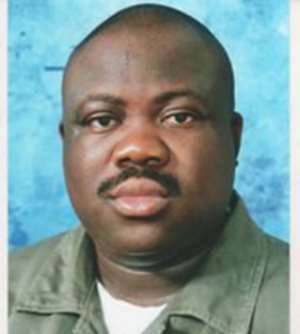 The Deputy National Organizer of the National Democratic Congress (NDC) Mr. Hamidu Akamba has taken a swipe at the largest opposition New Patriotic Party (NPP) and its flag bearer Nana Addo Danquah Akuffo Addo.
Mr. Akamba said because the NPP does not have campaign messages to give to Ghanaians, their leader, Nana Akufo Addo is going round the country peddling lies about the current NDC administration.
He said Nana Addo and his team continue throwing dust in the eyes of Ghanaians with his promised free secondary education when he is given the mandate to rule this country.
He challenges Nana Addo to come out with figures to tell Ghanaians; "with this amount of money I intend to make secondary education free".
The NDC Deputy National Organizer condemned Nana Addo as someone who condones violence and insults wherever he goes, with the latest being in the UK, where he launched series of attack on President Mills calling him visionless leader who lacks direction to lead the country.
"This is somebody who wants to be the president of this country going round the whole world scaring investors not to come and invest in the country with the kind of statements and insults on the sitting President", Mr. Akamba charges.
He wondered why someone who wants to become President has not learn to respect the sitting President.
"Nana Addo had the opportunity to tell the good people of Ghana his vision but ended up talking about sex", he added.
The NDC kingpin pointed out some of the shameful acts Nana Addo and his NPP party brought to Ghana when they were in government which includes making Ghana a cocaine transit point and doling out diplomatic passport to drug barons when he Nana was a foreign Minister under President Kufour.
Mr. Akamba contended that, Ghanaians who lost their lives in Gambia in a cold blooded massacre during the time Nana Addo was a foreign Minister were not compensated until the NDC pursue the case and won some compensation for the families of the victims.
Recounting some of the achievements chalked so far by the Mills led administration, the NDC Organizer indicated that the president has already won the elections and what need to be done is to increase the winning margin.
He said Prof. Mills led NDC government in three years has replaced more than thousand schools under trees, lifted curfews left behind by the NPP administration and more borehole and skills development training for the youth of this country have been provided.
Mr. Akamba was happy that Ghanaians are now descerning and they would focus their campaigns on issues rather than hurling insults on people who deserve to be praised.
By : Iddrissu Abubakari Jara