ECOWAS steps up cooperation with China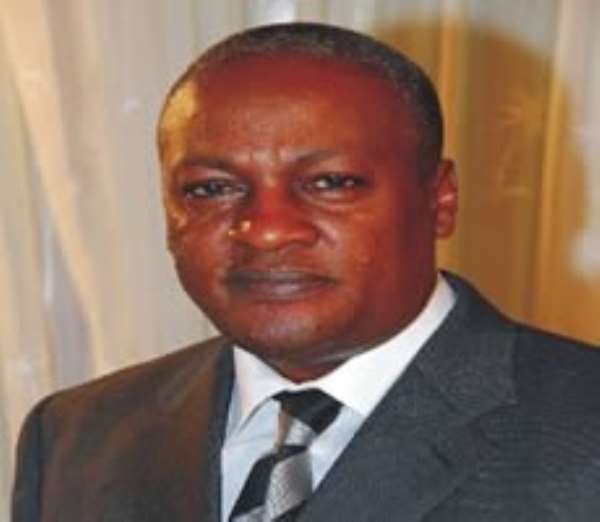 John Dramani Mahama
President of the ECOWAS Commission, Kadre Desire Ouedraogo, has assured China and its private sector operators of a stronger, mutually-beneficial and sustainable partnership that will build social and economic development now and in the future.
"ECOWAS is ready and prepared to work with China in the context of the Community's vision for 2020, so that together we can take our relationship to the next appreciable level that will be sustained with more actions and mutual benefits."
Mr. Ouedraogo was speaking in Accra at the opening of the second ECOWAS-China Economic and Trade Forum, aimed at encouraging the Chinese business community and investors to consider developing partnerships in ECOWAS member-countries.
Key projects expected to attract Chinese interest are infrastructure development -- taking into account roads, railways, housing, construction and transportation -- health care, mining, agriculture, power, pharmaceuticals, and information and communications technology.
Mr. Ouedraogo, speaking under the topic 'Institutionalising the Strategic Economic Partnership Between ECOWAS and the Republic of China', said: "ECOWAS is fully aware that this forum, which is a follow-up to the first one in Beijing four years ago, requires that we jointly review implementation of several agreements entered into and signed since 2008, and chart a new course for further investment aimed at boosting local consumption and realising progress in the areas of industrial development and export.
"We certainly will gain new heights in the next few years of our [regional] development cooperation if it is pursued in strong partnership with our friends."
In a speech read for him, Vice President, Mr. John Dramani Mahama, said: "Partnerships that will emerge from this forum must be aimed at enhancing production capacities to address supply-side constraints and other trade-facilitation infrastructure in order to enhance intra-West African trade and engage better in global trade.
"The outcome must be a landmark in the ECOWAS-China development agenda, providing useful insights, strong business contacts, and realistic and firm solutions to our business challenges."
He said the forum is an expression of the determination of ECOWAS leaders to strive for the promotion of integration and the simultaneous economic development of ECOWAS member- states, which would create a favourable environment for sustainable economic growth through a strategic partnership with China.
Outlining some expected achievements of the ECOWAS-China Economic and Trade Forum, Mr. Mahama explained that the forum seeks to maximise inflows of foreign direct investment from China into ECOWAS countries, and attract long-term concessionary funds for developing public infrastructure.
"The forum will as well promote ECOWAS-China trade and, by extension, intra-ECOWAS trade to create a conducive framework for private-sector institutions and entrepreneurs of the ECOWAS zone to meet with their Chinese counterparts for the purpose of forming joint ventures that will lead to re-capitalisation, re-equipment and enhancement of production capacities.
"The overall goal is to promote Chinese investments in West Africa by forging strategic partnerships in leading sectors of the regional economy," Mr. Mahama stated.
The second ECOWAS-China Economic and Trade Forum is an assembly of business executives, private-sector operators, investors, policymakers, government officials, investment-promotion agencies and entrepreneurs from the two sides.
This year's forum, being hosted by the Ghana Chamber of Commerce and Industy, is targetted at attracting additional Chinese investments into the power sector, healthcare and pharmaceuticals, agro-food and allied services, mining, as well as information and communications technology.
The maiden event held in China in 2008 saw over 1,000 participants from West Africa, with 200 private-sector operators and 150 government officials attending.