Senegal awaits results in cliffhanger polls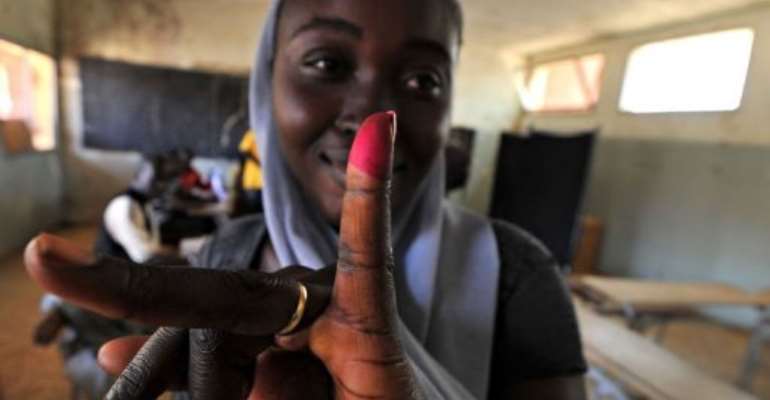 DAKAR (AFP) - Senegal began tallying votes Sunday after a run-off election in which the 85-year-old incumbent Abdoulaye Wade is fighting a united opposition against his controversial bid for a third term.
Polling stations closed after a largely peaceful day of voting in the west African nation whose reputation as a stable democracy has been put on the line over Wade's re-election bid, which has led to deadly riots.
Having failed to deliver a crushing first-round victory a month ago, Wade faces a stiff challenge from his former prime minister Macky Sall, who has the full weight of the opposition behind him.
"I want to vote in peace, and I want Macky Sall to win this election because times are hard in Senegal," said Ndeye Fall, a teacher voting in a working-class Dakar suburb.
As a coup played out in neighbouring Mali, European Union election observers urged Senegal to prove its credentials as a strong democracy in a troubled region.
"I hope as a democrat that Senegal will show a strong example in this African region which is so tormented," said EU mission chief Thijs Berman.
Former colonial master France urged the Senegalese to accept the election results. "I have confidence in the wisdom of the Senegalese," said Cooperation Minister Henri de Raincourt.
Senegal has been hailed as one of the region's success stories, being the sole among its mainland neighbours never to have undergone a military coup.
The election commission said there were several clashes between rival supporters during the poll campaign, but it was calm compared with the run-up to the first-round vote in February, when near-daily riots left six dead.
Sall, 50, accompanied by his wife, cast his vote in his hometown Fatick in central Senegal, praising the turnout as long lines formed at polling stations around the country.
"This shows our country is a major democracy and that Senegalese know how to make their choice responsibly," he said.
Both candidates have declared they cannot lose, raising fears that the poll's outcome will inevitably be challenged.
A defiant Wade voted in the afternoon, saying he was ready to "normalise" his relations with France and the United States who have criticised his third term bid and urged him to retire.
The octogenarian, Africa's oldest leader after Robert Mugabe, 88, said the two countries had been "intoxicated as Senegalese said if I was a candidate, Senegal would go up in flames. For me these incidents are in the past."
While Wade came first in the February 26 vote with nearly 35 percent of the vote to his ex-protege's 26 percent, he is in an uncomfortable position as Sall has secured the support of all the other candidates during the electoral campaign.
Wade brushed this off saying it was the candidates who had rallied "and not their supporters. Most of their supporters and leaders are in agreement to join a government which I will form."
Despite having served two terms, a limit he himself introduced, Wade says later changes to the constitution allow him to serve two more mandates as the law is not retroactive. This argument was upheld by the country's constitutional council.
The election commission on Saturday urged the candidates not to declare victory prematurely as results come in.
There were indications the turnout could be higher than in the first round when only 51 percent showed up.
Some 5.3 million people are registered to cast their ballots in the run-off.
Wade's inability to clinch an outright victory in the first round was a humiliating blow to a leader who was hugely popular when first elected in 2000 after 25 years as opposition leader.
In 2007, he won in the first round with 55 percent of the vote, but his popularity has plunged in recent years amid rising food prices, power cuts and the widespread perception that he is trying to line up his son Karim to succeed him.
Power outages that crippled economic activity last year were repaired in time for the election campaign.
While Wade has been praised for an aggressive infrastructure drive, critics say he has focused on fanciful legacy projects to the detriment of good governance initiatives.