Senegal to vote in cliffhanger presidential election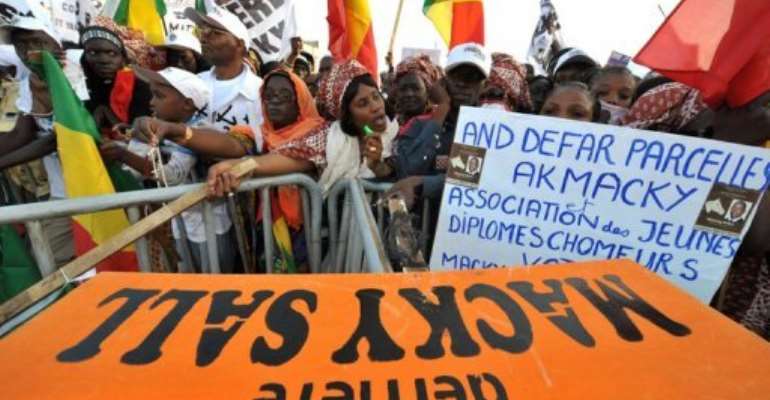 DAKAR (AFP) - Senegal goes to the polls Sunday in a run-off presidential election which could see a united opposition thwart 85-year-old incumbent Abdoulaye Wade's efforts to stay in power for a third term.
Having failed to deliver a crushing first-round victory a month ago, Wade faces a stiff challenge from his former prime minister Macky Sall, who has gathered the full weight of the opposition behind his presidential bid.
Some 5.3 million voters are registered to cast their ballot in the run-off election which starts at 0800 GMT and will finish at 1800 GMT under the gaze of 300 international observers.
Both candidates have declared they cannot lose, raising fears that the poll's outcome will inevitably be challenged.
The election commission on Saturday urged the candidates not to declare victory prematurely, while observer missions called for a clean vote in the west African country whose reputation for stability is on the line.
The second round vote comes after two months of suspense in Senegal, which has been shaken by deadly riots protesting Wade's controversial bid for a third term after he circumvented a constitutional term limit.
The split opposition vote came to around 65 percent in the first round, against Wade's 34.8 percent.
"If all goes well, we should be at around 70 percent," Sall told AFP in an interview on the eve of the run-off. "Wade cannot win."
But Wade has said the same of his rival, calling the idea of his loss "absurd."
The elections commission has noted several clashes between rival supporters during the election campaign.
But it was relatively calm compared with the run-up to the first-round vote on February 26, when riots left six dead.
Wade's inability to clinch an outright victory in the first round was a humiliating blow to a leader who was hugely popular when first elected in 2000 after 25 years as opposition leader.
He was roundly booed at his home polling station when he cast his vote in February.
In 2007, he won in the first round with 55 percent of the vote, but his popularity has plunged in recent years amid rising food prices.
Power cuts that crippled economic activity last year were repaired in time for the election campaign.
Growing public anger, along with the widespread perception that Wade is trying to line up his son Karim to succeed him, exploded into violence when the country's constitutional court approved Wade's controversial candidacy in January.
Despite having served two terms, a limit he himself introduced, Wade says later changes to the constitution allow him to serve two more mandates as the law is not retroactive.
While Wade has been praised for an aggressive infrastructure drive, critics say he has focused on fanciful legacy projects to the detriment of good governance initiatives.