Technical hitches delay biometric voter registration at some Adenta centres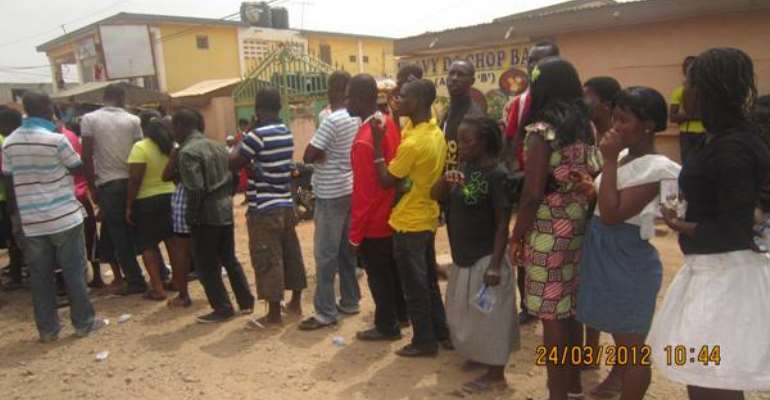 Adenta, March 24, GNA - Some of the centres for the Biometric Voter's Registration visited this morning by the GNA, between 0700 hours and 0900 hours at Adenta had encountered technical problems that had slightly delayed the start of registration.
While most had been resolved, efforts were being made to address the outstanding.
At the Adenta Holy Rosary Catholic Church, the Registration Officer, Mr. Asamoah Patrick Oscar, told the GNA that their equipment had problems with the software and could not be operated.
He said they had informed the EC and were waiting for the entire replacement of their equipment.
Some people, who were waiting in long winding queues, appeared frustrated. As at 0830 hours, the registration at that centre had not begun.
At the West African Secondary School, the GNA learnt that exercise began at 0800 hours.
The Registration Officer, Mr. Abel Tettey Addy, explained that the delay was the result of a faulty camera and when the cartridge was changed it begun working.
He said as at 0800 hours, 12 persons had been registered.
A visit at the Adenta Cobby Memorial School Centre, Ms. Afiyo Doku, who was in-charge, said when the exercise begun they encountered a problem with their scanner because the machine was not reading when paper was slotted.
However, she said, they had been able to register 17 persons as at by 0922 hours when the GNA interviewed them.
At the Adenta Community School Registration Centre, Ms Crystal Agorbia, said they begun registration at 0720 hours without any problem and as at 0937 hours they had registered 21 persons.
GNA