Tema Court In Sorry State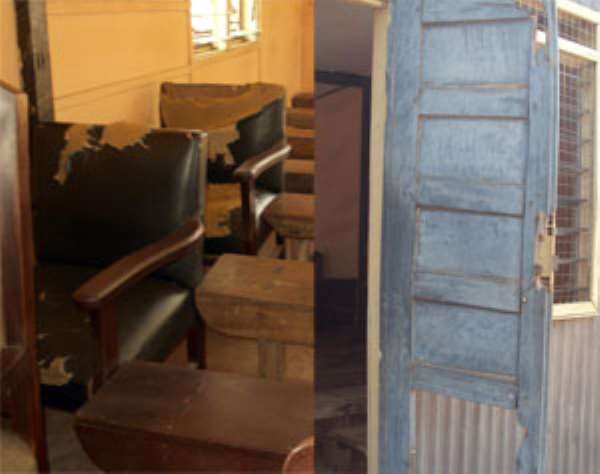 The furniture in Tema Circuit court
TEMA CIRCUIT Court 'A' which was built several years ago with the initial mandate to preside over civil cases is in a state of disrepair. 
The court which now has adjudication over both civil and criminal cases has not seen any major rehabilitation even though it hears over ten cases a day and is the busiest court in Tema.
In this modern day and age, accused persons brought to the court, the complainants, relatives and visitors have to sit on wooden benches during hearings. Only the lawyers, prosecutors, the judge and court clerks have access to chairs that are in good condition. 
The courtroom is very hot as the fans there are very slow even when switched on. It is almost as if there is no fan in the room and people are seen constantly sweating and fanning themselves.
People have to sit for long hours waiting for cases to be called. There are only two old, worn out arm chairs in the courtroom and those who cannot sit on the hard uncomfortable benches have to stand outside. 
The most disturbing thing about the situation at Tema Circuit Court A is that a large portion of the main wooden door is broken and there is a gaping hole at the bottom of it. Anyone can break into the building at any time. The door has been this way for months now yet nothing has been done to fix it.
To make matters worse, most of the louver blades securing the windows are missing, and a wooden notice board placed right beside the court to inform the public about its activities is completely deteriorated yet notices are posted on it daily; no one seems to be bothered.
The bad condition of the building makes it very easy for criminals to escape from the court as this has already happened once.     
The court does not have a lavatory and accused persons brought there have to be sent to the back of the building whenever they need to use the bathroom. 
 From Dorcas Larbi, Tema