Deadly protest after Egypt football ban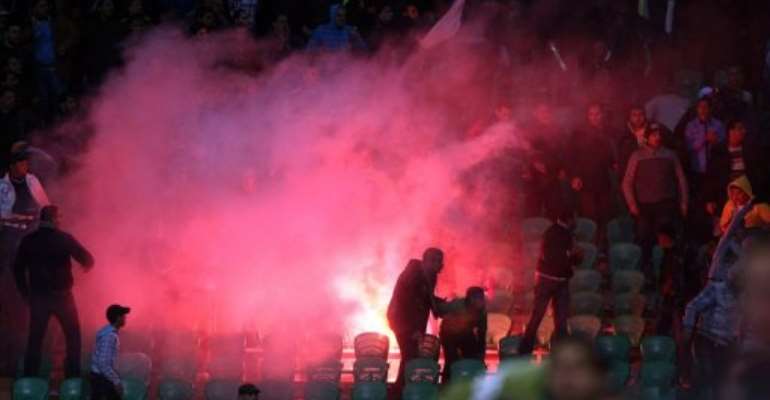 CAIRO (AFP) - A boy was shot dead when Egyptian forces clashed with football fans protesting against a ban on their club over a stadium riot that killed dozens last month, officials said on Saturday.
Security officials said the boy was 13 years old, and that another 18 Al-Masry football club supporters were injured in the violence that broke out overnight in Port Said.
The official Al-Ahram newspaper reported that the boy was shot in the back.
By Saturday morning, the protesters had blocked routes into Port Said, witnesses said, creating traffic jams for several kilometres (miles) outside the Mediterranean city.
The protest erupted after the Egyptian Football Association banned Al-Masry from playing for two years and cancelled matches at Port Said stadium for three years, the newspaper reported.
Three club officials are among 75 people facing trial over the stadium riot that killed more than 70 fans at the end of a match between Al-Masry and Cairo rivals Al-Ahly on February 2, in one of the sport's deadliest incidents.
The independent AL-Shorouk newspaper reported that thousands joined protests after the main weekly Muslim prayers at noon on Friday, passing out leaflets calling for the expulsion of foreign workers in Port Said province.
Port Said had become increasingly isolated after the stadium riot, leading to demonstrations by its inhabitants to decry what they said was a smear campaign against them.
The riot broke out when Al-Masry fans invaded the pitch after their team beat the visitors 3-1, throwing rocks, bottles and fireworks at Al-Ahly supporters, causing chaos and panic as players and fans fled in all directions.
Most of the casualties died from suffocation as they were caught in a stampede.
In a statement, the Egyptian Football Association said AL-Ahly had also been suspended for four official games because its fans aimed fireworks at the pitch and held up insulting banners before the deadly riot.
The stadium deaths sparked days of violent protests in Cairo led by Al-Ahly fans in which another 16 people were killed.
Many believe the riot was orchestrated either by the police or supporters of Hosni Mubarak, a reflection of distrust towards the ruling military which took power after the veteran president was ousted in a popular uprising last year.
Al-Ahly's most ardent supporters, the Ultras, were active in the revolt that overthrew Mubarak.
They played a prominent role in defending anti-regime protesters when, one day during the uprising, Mubarak supporters on horse and camelback plunged into the crowds in Cairo's Tahrir Square before being pulled from their mounts or fleeing.
The defendants who will face trial over the deaths include nine members of the police and three officials from the Al-Masry football club. Two minors will be sent to a children's court.