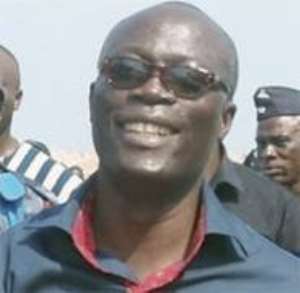 Wonders, they say, shall never end. Otherwise, how do you explain a situation whereby one of the most vociferous opponents of the "All die be die" mantra was caught on tape espousing the merits of something he has used every atom of energy in him to condemn?
Nana Addo Dankwa Akufo- Addo, Presidential Candidate of the New Patriotic Party had advised his teeming supporters and party men and women to resist oppressor's rule in line with our national anthem. Three bye-elections have been held since the assumption of power by the NDC and on each occasion, NPP supporters were harassed and beaten up by the ruling party's men and women. The Police who were there to ensure that peace prevailed during the period always turned a blind eye on such incidents and pretended that nothing was happening. At Agbogbloshie, NDC men, armed to the teeth with all kinds of dangerous weapons chased their own kith and brethren from the north. It was an unprovoked attack. Their only crime was that they had chosen to join the opposition New Patriotic Party.
These four endangered specie, instead of standing firm to defend themselves took the nearest escape route. They decided to seek refuge at the Police Station right in the middle of the market. That was their undoing. They were cut down in the prime of their lives right in front of the Police Station. Till date, the culprits have never been apprehended.
It must be emphasized that no leader worth his sauce will sit down unconcerned and allow the massacre of his people just like that. This situation could be likened to the situation the Ibos found themselves. Ojukwu had no choice but to declare succession of the Eastern part from the rest of the country.
At the time the Ahiara Declaration was made, many were those who criticized or condemned him for such a decision. But on his death, it dawned on a lot of people, (including the leader of the Federal Government, General Yakubu Gowon who decided to use force to bring them back into the federation) that the decision Ojukwu took was in the best interest of his people and the rest of Nigeria.
People always make reference to events in Burundi and Rwanda which resulted in acts of genocide against certain tribes in both countries. But such people forget to make reference to events in Kenya. There, it wasn't the utterance of any person. It was the out right thieving of electoral verdict that nearly engulfed the whole country in a civil war.
The NDC, whilst in opposition, had trumpeted the call for justice. Their argument then was that, there could be no peace without justice. I am therefore surprised that these people, who yesterday pretended to be championing the cause of the ordinary people, could so soon turn their backs on the very people who have helped them back to power. My brothers and sisters, power sweet paa oo. See Asiedu Nketiah. He now has the temerity to tell the whole world that he has chained and tamed the barking dog who happens to be the founder of his own contraption.
What about the National Chairman of the ruling party? A few months after coming to power, he was found driving against the flow/run of traffic on the Mallam - Kasoa Road. The National Youth Organizer is always escorted in a motorcade to his residence every evening.
You see these NDC people? They discourse like angels but live as men.
Now back to my story. On Thursday, 22nd March, 2012, during the Good Morning, Ghana show on Metro TV with Randy Abbey as Host and Kweku Baako as the other discussion, Presidential Aide, Nii Lante Vanderpuye made a u-turn in his view by making a startling revelation. He espoused the merit of the "All die be die" mantra.
The topic being discussed was the boycott of the Multi Media Group of Companies by the NDC. Without any prompting from the Host, Nii started singing like a bird. According to him, if he is going to any place and realizes that he will not get any protection, he will protect himself. Oyiwa, the cat is out of the bag. Protect yourself?
What is the difference between Nana's call to his support base to protect themselves when they come under attack and Nii Lante's method of protection? Is that not a form of all die be die? I want Nii and the horde of sharks, vultures, rabid dogs, poisonous snakes, wolves and the throat cutters in the nefarious contraction to tell me if what Nii is advocating does not come under All die be die?
And if we are to go by what Mill's eccentric and unpatriotic ministers are telling us, then the Special Force is also in line with the All die be die syndrome. But I laughed myself to sleep to hear Ministers and party functionaries telling Ghanaians that they have used our money to arm soldiers to be used against their fellow Ghanaians during the election period. I hope that is not what they want to do and the special force will not be foolish enough to allow itself to be used against their own countrymen and women.
God says our ways are not His ways, and our thoughts are not His thoughts. We are a determined people because we have the people behind us, the Constitution to guide us and God to protect us. We shall go about our legitimate duties in peace. We shall not forment any trouble during and after the elections. I believe the NDC Government led by President Mills, a law professor who knows the values of the various rights enshrined in our constitution and the International Human Rights will allow us to enjoy the freedom that is prevailing in the country.
In obedience to our leader's clarion call, we shall use the All die be die mantra as our unifying cry to ensure that nobody tempers with the people's verdict. If Nii Lante Vanderpuye has the legitimate right to defend himself if he fears his life is at risk, what prevents an ordinary person like Citizen Danquah Damptey from defending myself if I also come under attack?
Nii Lante, thank you for seeing the light and telling the whole world what good things you have seen in Nana's clarion call. That is the spirit. All die be die will be a checkmate to any rigging device engaged in by any unpatriotic and criminally minded person. Thank you Nana, for coming up with such an inspirational mantra. You are indeed a presidential material and we love you for that.
A decisive President in waiting, Nana! God bless you and make His countenance to shine upon you. Let all patriotic elements in the country stand up and shout "All die be die".
Daniel Danquah Damptey ([email protected]) 0243715297.