NDC called Kufuor a Moron. Mills has charted the same course. Is he also one?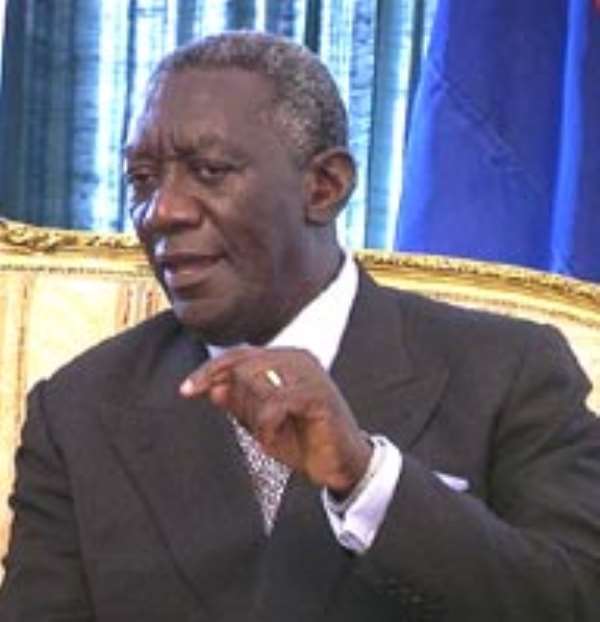 Massachusetts's Senator Edward Kennedy was on a trip to the Soviet Union in the early seventies during the Cold War Era. He had an interactive Session with some selected students from the Soviet Union, and the latter took advantage of the Senator's presence to ask probing questions. Kennedy was at his best elements. All of a sudden, the Russian Secret Service stepped in and told the audience that the interpreter was not feeling fine and so the discourse be brought to an end. Nothing that the interpreter said would make the man from the intelligence service shift his position. So, the discussion was brought to an abrupt end.
At the beginning of the year, our one and only President decided to have a rendezvous with senior editors of some newspapers. It was a question and answer session, but you could see that all was not well with the setting. The bully at the Castle and a member of the Triumvirate and the Presidium, the capricious and whimsical Koku Anyidoho was superintending over the President the way the eagle watches over its young ones. He was standing at attention like an Egyptian Mummy and breathing hard at the back of the commander in chief. After about seventy seven or so minutes of answering a few questions, Koku quickly stepped in and brought the entire proceedings to and abrupt end. Just like that, one may say. But why, Koku? Why did you do that? The answer is not far-fetched. Just hold your breath for a few minutes.
It was Thursday, the 6th of March, 2012, Ghana's Independence Day Parade. Every body was happy and the President was grinning from ear to ear. Why not? He was in his Bohemian or should I save his slave master's attire and taking the salute as contingents after contingents marched past the Salute Base. But I noticed one thing. Please wait awhile. The NDC has always touted our President as being in the best frame of health for he could stand on his feet for hours on end. But on that day when it mattered most, the President failed the acid test. On numerous occasions, he excused his humble self and sat down as soon as a contingent had marched past the dais.
Was there anything wrong with that? None that I knew! But one should not forget the fact that the latter day saints and acolytes in the NDC have gone to the ridiculous extent as carving President John Evans Fiifi Atta mills in the mould of a demi gods. They have thus ascribed to him the qualities of a super human being. There is nothing wrong by telling us that our own President is not in the best frame of health. I have my own personal ailment which is not hidden from my family members and some friends.
I have been reliably informed that before the President goes out on an official assignment, he is given some injection to enable him remain active for a specified period of time. And that explains why Koku of the Presidium had to step in for the medicine had lost its efficacy at that time. It was to forestall any eventuality and so blame not our capricious and whimsical man for that singular act of patriotism.
But I am curious of one thing. How did the President get infected with throat cancer? The official version is that one could only contract that ailment if one decided to go the unnatural way by licking the sexual organ anus of a woman. With his tongue of course! Unofficial version attributes our President's ailment to something extra. It is a known fact that, our President while lecturing at University of Ghana was a 'sadweam' and a chain smoker and these two, in addition to the first, might have been the mode of transmission.
But something beats my imagination. Our President is the victim. But who at all is that Jezebel of a woman who played that 'kwane – kwane' game with our President to put him in that precarious health condition for which You, I the nation and the President himself are suffering? If we know the identity of the woman, Ghanaians would then be in the position to decide whether to give her the Escobar Treatment or the Asamoah Gyan's one.
The Golden Rule in the Bible enjoins us to do unto others what we expect others to do unto us. And in line with that saying, we are also going to use the same standard or yardstick which they used on John Agyekum Kufuor to equally judge John Evans Fiifi Atta Mills. After all both of them have John as their first name.
Now, take a trip with me as we embark on a journey to the Ghanaian Lens of Thursday, 8th March, 2007 (no 130). On the lower left side of the front page was this heading 'For the Records'. "Kufuor and his brother, Addo Kufuor did not only make clowns of themselves on Tuesday , but more importantly, insulted the culture and tradition of Ghana by choosing to wear ill fitting western made suits on our 5oth birthday of all days when even some of the invited guests appeared in their nation's traditional attire".
On page 4 of the same paper (centre page) with the heading "Mills jumps over NPP trap" was this write-up. " What even killed the spirit if the NPP gurus the more was the fact that whilst Kufuor chose to disrespect Ghana's tradition by clothing himself in an ill-fitting western made suit, Professor Mills projected everything good about Ghana by resplendently appearing in a rick kente, a jumper to match and in an appropriate Ghanaian footwear".
Then came the mother of all insults, directed at the wife of the then President Kufuor. It was under Thought of Uncle J.B's Column, which NDC members themselves alleged is written by Koku Anyidoho and Ato Ahwoi, both members of the Triumvirate and the Presidium. The President is the other member.
It was under the title Is Nebuchadnezzar Atta Ayi Kufuor normal? "Why, is it that the Cheval Regal Whisky is turning his brains inside down or what? Or it is the time he spends dipping his head in between the thighs of Gifty, Oboshie, Lizzy and co that is making him lose his senses. Or the cocaine money is flowing waa waa waa and so he is spending too much time counting the money and cannot for a second think straight.
"And so, in this auspicious year and on our 50th birthday he decided to be in the clothes of his slave master? So when he was dressing up and leaving home, could his 'gari kotoku' wife not tell him that what he was wearing was inappropriate for the occasion? Or the 'gari-kotoku woman is also too busy counting the ill-gotten wealth of that son and daughter of hers and so cannot also think straight.
"What about those who get paid by the tax payer to advise him? Couldn't they have told him to be in traditional attire and not in that foolish attire?
"So when he appeared there in his Bohemian apparel and saw his invited guests and other leaders in their traditional apparel, how did he feel?
"What kind of a curse 'koraa' have we brought upon this nation by allowing this moron to lead us into the abyss?
And to crown it all, you listen to me loud and clear. The Ghanaian Lens of Thursday March 22, 2007 (No 134) had under "For the Records" the following: "It is only unthinking clowns who wear suits when they are standing in the tropical sun and taking the national salutes."
Oyiwa, the cat is out of the back. For all the whining, whimpering and cacophonic noises they were making at that time were geared toward the then President of this nation. But on reflection, I have become convinced that it was a premonition of what they feared would happen to their candidate. And Mills, Anyidoho and Ato Ahwoi, by their inaction have gone to confirm my fears.
Those who live in a glass house should not throw stones. No be so the saying goes? One would have thought that by criticizing Kufuor for wearing a suit on our independence day, they, the perfectionists would not dream of charting a similar course. But here we are with these mischief makers eating humble pie. What has changed? It is equally true that we have brought a curse on this nation by allowing this moron to lead us into the dungeon.
And they used derogatory words to describe ex-President Kufuor's wife!! Hmmn. As for me, I will be charitable. I will not call them names. But the question I am asking them is simple. Is President John Evans Fiifi Atta Mills a moron? That was what they called Kufuor for wearing a suit on our Independence Day. Now the permutations have changed and Mills too wore a suit on our Independence Day Parade.
Is the President a moron? I pause for an immediate answer answer!!
Daniel Danquah Damptey ([email protected]) (0243715297)