Senegal's Wade, rival Sall in final push to woo voters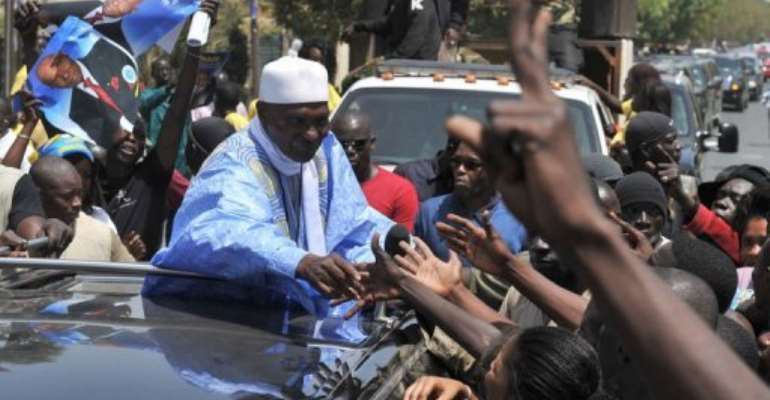 DAKAR (AFP) - Senegal's veteran leader Abdoulaye Wade and his challenger Macky Sall made their final appeals to voters on Friday ahead of weekend presidential polls with the incumbent seeking to hold office past the age of 90.
The 85-year-old Wade held a "victory tour" in Dakar where music rang out as his convoy made its way through the streets on the last day of campaigning of the cliffhanger election in the west African country.
Having failed to deliver a crushing victory in the first-round vote a month ago, Wade faces a stiff challenge from his former prime minister Sall, 50, who has gathered the full weight of the opposition behind him.
Sall was to hold a mass rally in an outlying suburb of Dakar along with 12 candidates who lost in the February 26 first round and have thrown their support behind the challenger as they vow to elect "anyone but Wade".
While laden with suspense, the run-up to the second-round of the election has been calm compared with the first vote, which was marred by a month of riots over Wade's candidacy that left six dead and over 150 injured.
However in the troubled Casamance region, a soldier was killed and four injured in an attack by separatist rebels who have carried out a low level war there for 30 years, making it a priority for the next government.
France called for a free, fair and transparent election in its former colony.
Wade's efforts to seek re-election by circumventing a constitutional term limit earned him stiff rebukes from abroad and raised fears for the stability of one of Africa's oldest democracies.
Wade polled 34.8 percent in the first round and said he failed to win outright because "the West was campaigning against me."
The odds are in Sall's favour heading into the run-off election.
The opposition obtained a total 65 percent of the vote in the first round, but turnout was low and it is not clear whether voters will follow their respective leaders in backing Sall against the incumbent.
"Let nobody question our victory. Anyone who tries to steal our victory will face the full mobilisation of the population," Sall said at a rally this week.
While Sall won the backing of the opposition, Wade scored the official support of a leading member of the country's most powerful Islamic brotherhood, the Mourides, seen as key in the Muslim majority nation.
The head of the 90-person European Union observer mission, Thijs Berman, called Friday for "a respect of democratic rules," adding: "Violence achieves nothing."
Meanwhile African Union observer chief, former Nigerian president Olesegun Obasanjo, said: "Senegal is a grand democracy. I hope it will prove this once again in this run-off election and become a model for other African countries."
Wade has remained defiant in the face of criticism.
"There is only one hypothesis. I win. The possibility of my defeat is absurd," he told local television station Africa7 on Wednesday. "It is as if I say the sky is going to fall on our heads in one minute. It is absurd because the sky is not going to fall on our heads."
A Wade victory would stoke fears of violence after his mere presence in the race prompted opposition supporters to take to the streets.
Despite having served two terms in office, a limit he himself introduced, Wade says later changes to the constitution allow him to serve two more successive mandates.
Officially the second oldest African leader after Zimbabwe's 88-year-old Robert Mugabe, some claim Wade is in fact pushing 90 due to discrepancies in the way birth certificates were filed at the time he was born in a nation where the median age is now 18.
In 2007, he won in the first round with 55 percent of the vote, but his popularity has plunged in recent years amid rising food prices and power cuts which crippled economic activity last year but were repaired in time for the election campaign.
While Wade receives kudos for an aggressive infrastructure drive, critics say he has focused on fanciful legacy projects to the detriment of good governance initiatives.
Wade has said he wants only a few more years to finish his "grand projects" but is seen as stalling so he can line up his unpopular son Karim to succeed him.
Despite its stability, Senegal -- a nation of some 13 million whose main earners are fishing, tourism and groundnut production -- has a large proportion of people living below the poverty threshold.