Be bold to challenge unqualified voters - Electoral Officer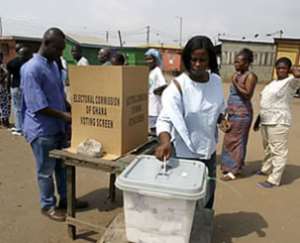 Kumasi, March 22, GNA – An Electoral Officer in Kumasi has asked all Ghanaians to be vigilant and to have the courage to challenge any unqualified person who show up at a biometric voter registration centre.
Mr Manu Sakyi, who is in charge of the Asokwa, Oforikrom, Asawase and Asokore-Mampong sub-metropolitan areas, said the under-aged and aliens should not be allowed to take part in the exercise.
All should share in the responsibility of ensuring that there is a clean and credible voters' roll to prevent cheating and other acts of electoral fraud.
He was speaking at a forum to educate the people on the nationwide voter registration, barely 48 hours to its start in Kumasi.
The programme was put together by the Electoral Commission (EC) and "CeForce", an organization of the Grace Baptist Church.
Mr Sakyi said "everything must be done" to make sure that the new register to replace the old one does not become bloated.
He counseled qualified voters' to register in their areas of residence because the new system makes it impossible to take out a name from one's database to another.
Added to that is the difficulty with identification and verification.
He reminded the people to put premium on the exercise and to see to it that they provide correct and accurate particulars.
GNA